The best beaches near London by train
1st August 2023

Think London, think sun, sea and sand – and we're not joking. You see, the capital is within easy reach of some of Great Britain's best beaches, meaning you can enjoy the best of what the city has to offer and then find yourself having the time of your life in a coastal destination.
Here is our roundup of the best beaches near the capital that you can reach by train (and for 1/3 less when you travel with a Railcard).
Viking Bay, Broadstairs
Known as the "Jewel in Thanet's Crown", Broadstairs is a picturesque and charming seaside town to escape to for a quintessential British summer getaway.
The main draw here is Viking Bay, a horseshoe-shaped beach that has plenty on offer to keep you entertained. Sunbathe on a deck chair, surf the waves and treat everyone to ice-cream at Morelli's Gelato.
It's also worth visiting the nearby Dickens House Museum – the celebrated author was a big fan of the town.
Stations: London Victoria, London Charing Cross, St Pancras > Broadstairs
Journey time: approximately 1 hour 25 minutes to 1 hour 50 minutes
Whitstable beach, Whitstable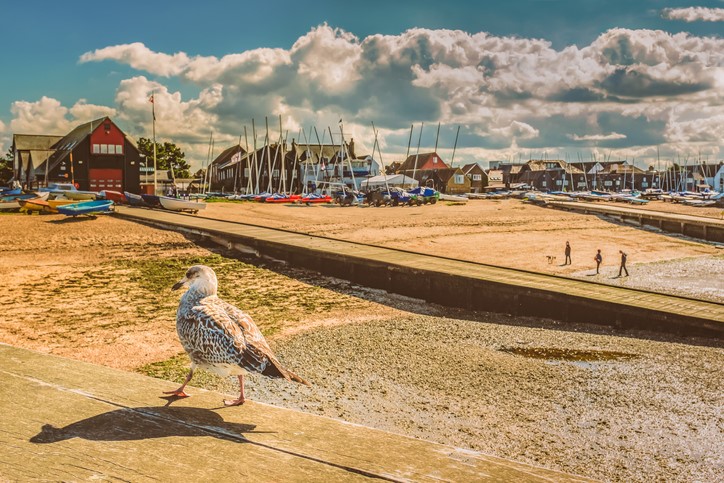 Offering up incredible views, wonderful seafood and a fantastic stretch of shingle, Whitstable beach is a calm and pleasant coastal attraction.
There's lots to do here – go for a pleasant stroll, take a boat trip and explore the town and pick up some souvenirs.
For food and drink, head to the Lobster Shack. Set on the Easy Quay of the harbour, you can enjoy fresh seafood and local beers with the lovely backdrop that is Whitstable Bay for company.
Stations: London St Pancras, London Victoria > Whitstable
Journey time: approximately 1 hour 20 minutes
Camber Sands, Camber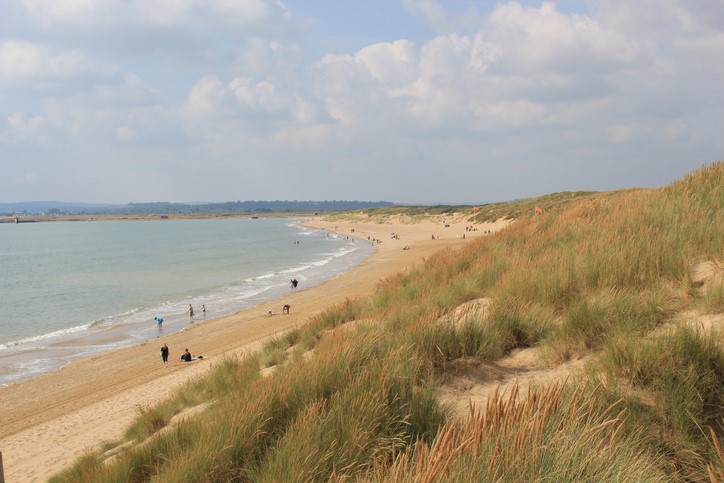 A long stretch of golden sand on the southern coast of England, Camber Sands is a serene and scenic beach for all moods, whether you're looking to relax or splash around in the water.
Kitesurfing is a very popular activity here, with a dedicated Kitesurfing Centre offering lessons. You can also sign up to kite buggying and landboarding.
Pick up snacks and drinks at Frankie's at the Beach or some fish and chips at Fish me a Dish.
Stations: London St Pancras, London Charing Cross > Rye
Journey time: approximately 1 hour 10 minutes
Margate Main Sands, Margate
For the ultimate in seaside fun that feels a world away from the norm, you can't go wrong with Margate in Kent.
One of the best things about its sandy beach, Margate Main Sands, is that it gets an astonishing amount of sunshine – perfect if you're something of a sun worshipper.
When you've had your fill of sun, sea and sand, head to Dreamland for an amusement park experience like no other. Ride on the world's oldest rollercoaster and enjoy the views from the Big Wheel.
Stations: London St Pancras, London Victoria > Margate
Journey time: approximately 1 hour 40 minutes
Brighton beach, Brighton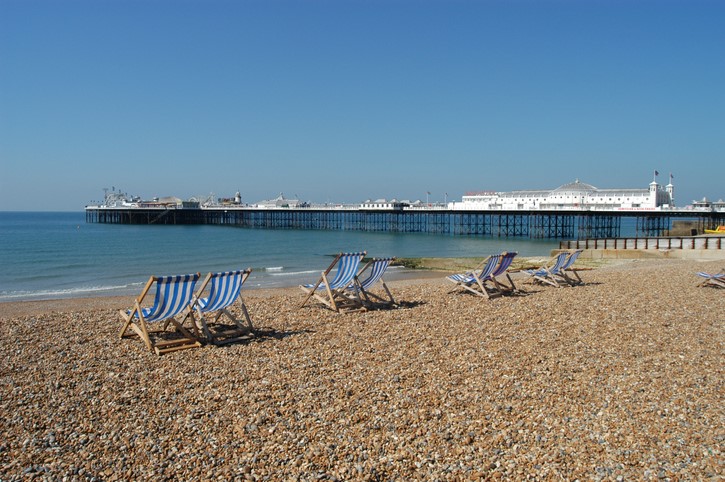 Think Brighton, think Brighton Beach, a seaside destination that has long been a mecca for Brits looking for a top tier holiday experience by the coast.
The pebbly beach is a great spot for topping up your vitamin D, enjoying a picnic or taking a refreshing dip in the sea.
For endless fun, head to Brighton Pier, where rides like the turbo coaster, air race and the crazy mouse await. There's also the Palace of Fun for arcade brilliance.
Stations: London Victoria, London Bridge > Brighton
Journey time: approximately 1 hour to 1 hour 10 minutes
Bournemouth beach, Bournemouth
Some 7 miles long, Bournemouth beach is a sprawling golden sandy paradise that can be found on England's southern coastline.
With some of the warmest waters in Great Britain, it's a top destination for water-based fun, from swimming and surfing to jet skiing and paddle boarding.
If you have time, check out the Russell Cotes Art Gallery & Museum, which is super close to the beach. Its eclectic collection includes paintings, sculptures, ceramics and objects from all over the world.
Stations: London Waterloo > Bournemouth
Journey time: approximately 1 hour 50 minutes to 2 hours and 5 minutes
With an average annual saving of £150, you'll make your money back in no time with a Railcard.