Margate Beach from London by train
26th May 2023

Set on a slightly protruding bump of land on England's southeastern coastline in the county of Kent, Margate is a classic seaside town whose noteworthy transformation this century has put it firmly on the UK map as a classic coastal getaway.
Whether you're looking to enjoy a day out or a weekend away, it's very easy to get to Margate from London by train (cheaper with a Railcard, too). Read on for more on how, as well as what to see and do when you get there.
How to get to Margate by train
Is it easy to get to Margate Beach by train from London?
It's very easy. Trains run regularly throughout the day from London St Pancras and London Victoria to Margate, so you'll have no problem getting to the iconic seaside town.
If you're an early bird, you can hop on a train from around 6am (sometimes a little earlier, sometimes a little later, so do check in advance).
If you're looking to make the most of your stay in Margate, the latest trains depart at around 10pm (again, check in advance to see available options).
From Margate train station, the beach, which is also known as Margate Main Sands, is just a 5-minute walk away.
How long is the train journey from London to Margate?
On average, you're looking at around 1 hour and 40 minutes to get from London to Margate by train. It's super short.
The quickest time you can probably enjoy is around 1 hour and 30 minutes. The longest you're probably looking at is around 1 hour and 50 minutes, typically for a journey that requires a change at Faversham.
Of course, the times may vary, so do plan accordingly and check on the day.
What will it cost?
It can be very affordable to travel from London to Margate, but the price of your tickets will ultimately depend on when you travel and when you book.
To make sure you get the best deal possible, we recommend that you book in advance and with a Railcard. The latter can save you up to 1/3 off your fare (and up to 60% off for 4 accompanying kids). There are a range of options to suit your age and needs.
Some things to see and do in Margate
What can I see and do at Margate Main Sands?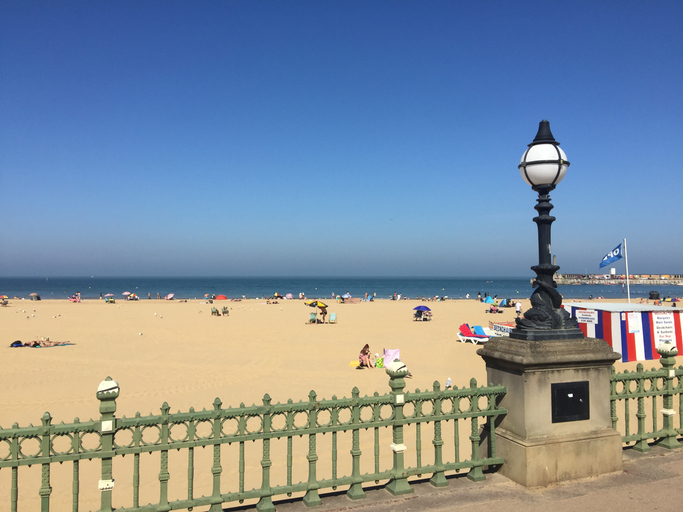 Plenty! Grab a deck chair and lounge about as you top up your sun tan, build a sandcastle or take a dip in the water. You can also enjoy a scenic walk along the promenade.
Don't forget to head to the Harbour Arm, too, where there's a small cluster of food and drink establishments, from the "maritime micropub" The Harbour Arms to the Staple Stores bakery. This spot on the beach also gets a lot of sun..
What's this I hear about something called Dreamland?
Free to enter, Dreamland is a larger than life amusement park that is jam-packed with classic rides, entertaining shows, wonderful art installations, tasty eateries and more.
One of the undeniable highlights at the complex is the Scenic Railway, said to be the oldest rollercoaster in the UK. It's definitely worth experiencing.
What galleries and museums are there?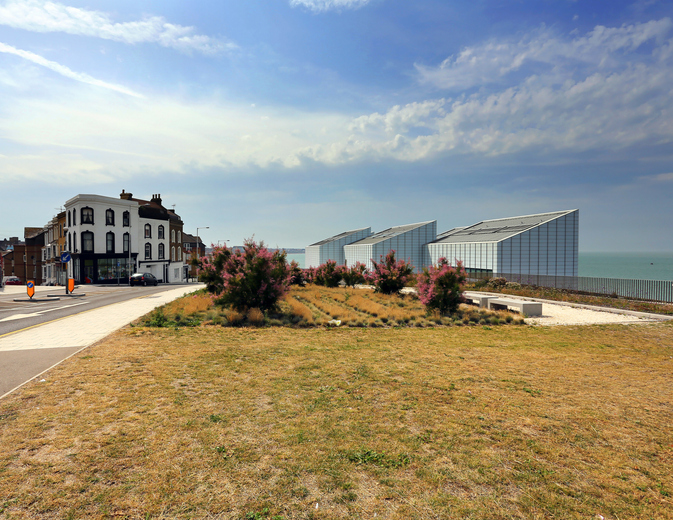 The big draw in terms of art in Margate is the Turner Contemporary, which delivers a wide range of contemporary art exhibitions on a rolling basis. And it's free to enter. Other galleries include the Eclectic Art Gallery, the Pie Factory and York Street Gallery.
For a bit of history, head into the Old Town. Here you'll find Margate Museum, which documents the rich and fascinating history of Margate. Elsewhere, the Crab Museum is a novel experience – it's said to be the "only museum [in Europe] dedicated to the world of the decapod".
Continue with the quirky theme at the Shell Grotto, whose history is shrouded in mystery. It's an underground attraction full of shells organised decoratively on the walls and ceilings.
Where should I grab a bite or a drink?
Margate is a top destination for foodies.
There's your traditional seaside fare at establishments like Peter's Fish Factory, Buoy & Oyster and Melt Gelato Parlour. For pizza lovers, check out Ralph's, which specialises in sourdough bases. In the mood for something special? Consider Mullins Brasserie, which delivers European-inspired dishes "with a hint of the Caribbean".
If you want somewhere hearty and family-friendly, make a beeline for The Bus Cafe, which is indeed based on a double decker bus.
For daytime drinks, grab a coffee or tea at the very cool Cliffs – where you can also pick up a vinyl or two – or the charming Margate Coffee Shed. In the evening, sip a pint in the George & Heart or head to The Clockwork Cocktail Company where you can order any cocktail under the sun.
Save up to 1/3 on your rail fare to and from Margate when you travel with a Railcard.