5 of the best free things to do in Brighton and Hove
26th April 2023

Experiencing Brighton and Hove on a tight budget is far from impossible. In fact, you can have a great time in the city without it costing you the earth – and getting there, you can save 1/3 on train fares when you book tickets with a Railcard (and up to 60% off for kids, too).
Curious to know more? We thought so. Read on to discover 5 of the best free things you can do in Brighton.
1. While away the hours at Hove Museum of Creativity
The family-friendly Hove Museum of Creativity is a jam-packed wonderland that will leave you feeling joyful, charmed and wondering where the time has gone when you eventually check your watch.
There's a film section, where you'll be greeted by 2 interactive galleries that celebrate the history of cinema, as well as Brighton's pioneering contribution to the silver screen.
The Wizard's Attic is an absolute winner. Home to a huge collection of toys, from as far back as the 17th century to the present, it's sure to fill you with childhood nostalgia.
Still want more? Well, the museum even has a fine art gallery, showcasing works of art from its unique collection on an ever-changing basis.
2. Explore a miscellany of wonders at the Booth Museum of Natural History
Founded in 1874, the Booth Museum of Natural History has been captivating visitors for almost 150 years with its vast and transfixing collection of insects, rocks, plants and more.
Head to the birds room to see around 400 birds on display, from golden eagles to woodpeckers. Then pop in to the bones section, where you'll get to see the unique structures behind familiar and less familiar creatures (there's some dinosaur bones on display, too).
Wrap it up with a tour of the museum's collection of butterflies and insects and a potter around the Victorian-age parlour, where you can experience first-hand the interior design trends of the mid to late 19th century.
3. Get into the aquatic spirit at the Brighton Fishing Museum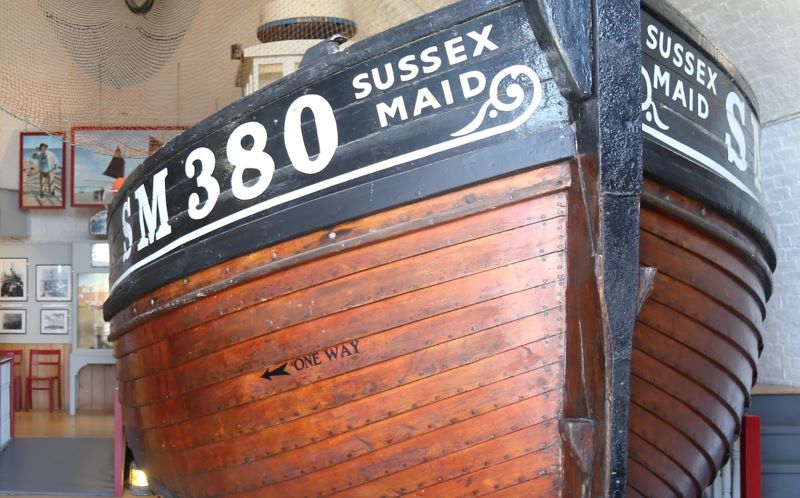 Being on the southern coast of England, fishing has been a key way of life for Brightonians since day one, a fact that is celebrated, documented and explored at the fascinating Brighton Fishing Museum.
Located in Brighton's Fishing Quarter, the museum is well worth a visit if you're by the water. Inside it feels like every inch of space has been taken up, whether it's the 27-foot punt boat on the floor, historic photographs and pictures of fishing life on the walls or the model ships propped on display in glass cases.
The museum has a coffee shop nearby, housed in a separate unit. The homemade lemonade comes highly recommended.
4. Enjoy the fresh seaside air at Brighton Beach

Think Brighton, think Brighton Beach, a sandy stretch of pebbles where you can sunbathe, swim and picnic to your heart's content (all obviously weather dependent, with summer perhaps the best time to visit).
It's also worthwhile going on a relaxed stroll along the promenade, as it's a nice way of taking in the scenery and atmosphere of Brighton's electric seafront at your own pace.
Brighton Pier, of course, is a major attraction. And while you can walk up and down it for free, you will nevertheless have to part with your cash to experience the many rides, arcades and experiences on offer.
5. Discover a rural side to Brighton at Stanmer Park

On the northern outskirts of Brighton, away from the coastline the city is perhaps best known for, you'll find Stanmer Park, a sprawling stretch of green, bucolic countryside.
It's great for walks like the Woodland Trail, bicycle rides – the Granny's Belt is one for cycling enthusiasts – and wildlife spotting (keep an eye out for kestrels and small deer among many other creatures).
You can also venture into Stanmer village for a taste of rural life that feels like it belongs to a bygone era, in the best way. And while this is a blog about free things to do, spending a few bob on refreshments at the team rooms will do you the world of good (without hurting your bank balance).
Make your money go further with a Railcard. Not only can you save up to 1/3 off selected train fares, you can also enjoy average annual savings of £140.