Can I go on holiday this summer?
29th June 2021
With travel abroad still uncertain we thought we'd share a few of the great locations you can visit in Britain, by train, that could be mistaken for some of your favourite locations abroad.
When you're ready to travel again you may be wondering 'where can I go on holiday?' With travel abroad still uncertain we thought we'd share a few of the great locations you can visit in Britain, by train, that could be mistaken for some of your favourite locations abroad.
Exeter Cathedral vs Notre Dame
Exeter Cathedral has a rich history and is one of the most beautiful cathedrals in England. The cathedral was built in Gothic style like Notre Dame, but unlike Notre Dame, it houses the longest stretch of uninterrupted Gothic stone vaulting in the world.
Exeter has lots to offer whether you like Cathedrals and architecture or not. From Castles to museums to underground passageways and even a donkey sanctuary, there really is something for everyone in Exeter.
The Senior Railcard can save you over £30 on a trip to Exeter from London Waterloo. The nearest station to Exeter Cathedral is Exeter Central.
Spinnaker Tower vs Burj Al Arab
If you'd like to stay at the Burj Al Arab in Dubai but don't have a 7-star budget, then you could always opt for the Holiday Inn Express Portsmouth – Gunwharf Quays, which is only a stone's throw away from Portsmouth's Spinnaker Tower.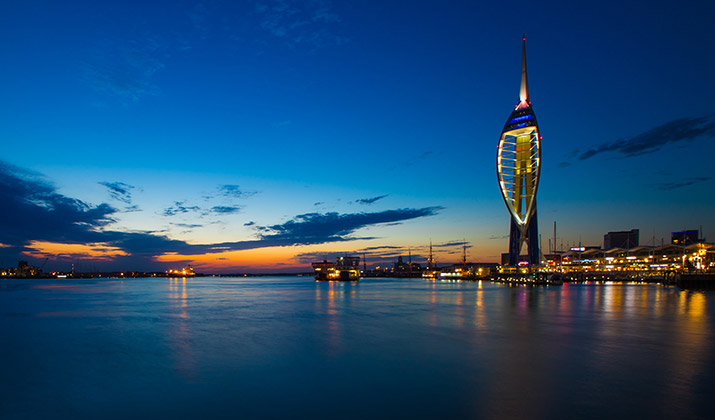 Portsmouth is considered home to the Royal Navy and has a Historic Dockyard that contains HMS Victory, Nelson's warship that lost its captain in the Battle of Trafalgar. It's also home to many chic designer outlets and a Canoe Lake, where you can catch crabs and enjoy a workout on a pedalo.
Save over £20 on your trip to Portsmouth from Newport (South Wales) with a Two Together Railcard. The nearest station to Spinnaker Tower is Portsmouth Harbour.
Royal Pavillion vs Taj Mahal
In 1815, John Nash transformed Brighton's Royal Pavilion from a simple lodging house into the Oriental palace you can see today without travelling to India.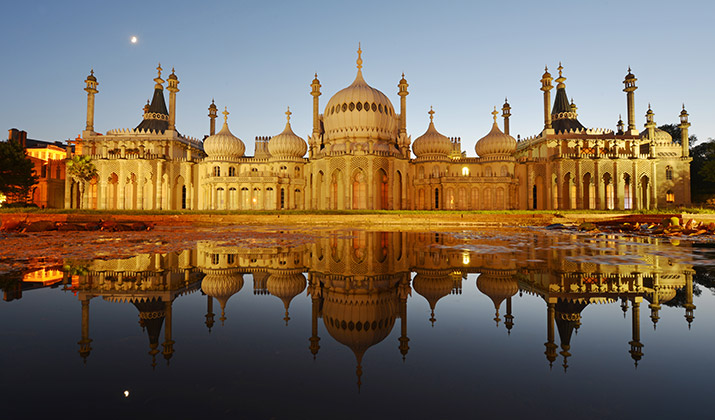 Brighton has a lot to offer, from eating fish and chips on the beach to visiting an eclectic mix of shops and restaurants in The Lanes.
Save over £26 on your trip to Brighton from Peterborough with a Network Railcard. The nearest station to Royal Pavillion is Brighton.
St Michaels Mount vs Mont-Saint-Michel
Marazion in Cornwall is home to St Michael's Mount, which has the same characteristics and shape as Mont-Saint-Michel in Normandy. However, you do not need to travel to France.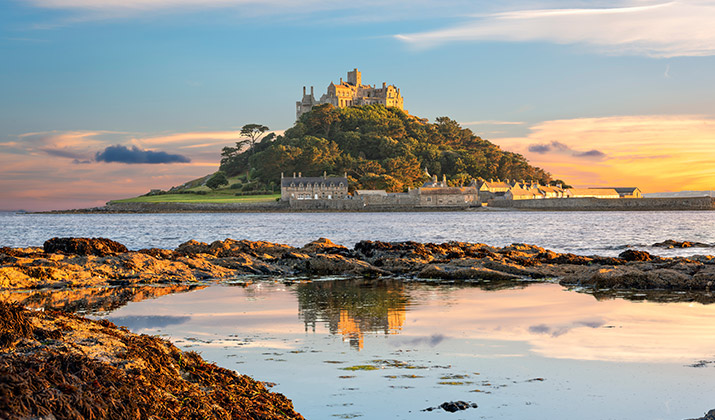 There are many things to do on a trip to Cornwall, from surfing on the sea to exploring the coastal paths and quaint towns.
Save over £28 on your trip to St Michael's Mount from Bristol Temple Meads with a Disabled Persons Railcard. The nearest station to St Michael's Mount is Penzance.
Portmeirion vs Portofino
The weather in Portmerion is not always as hot and sunny as those in Portofino, but they share brightly coloured buildings and beautiful gardens.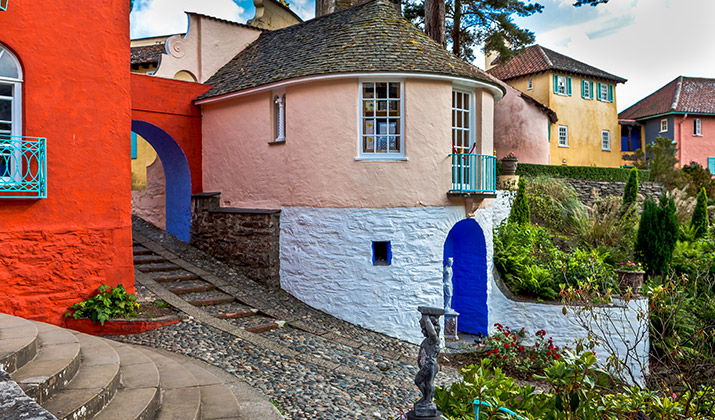 There are miles of sandy beaches and sub-tropical woods surrounding the village. Aside from the gastronomic experiences, there are also cute shops to find yourself lost in.
Save over £10 on your trip to Portmerion from Bangor with a 16-25 Railcard. The nearest station to Portmerion is Blaenau Ffestiniog.
Durdle Door vs Great Oceans Road
A limestone arch known as Durdle Door can be found in Dorset, near the Jurassic Coast; it can be mistaken for the Twelve Apostles on New Zealand's Great Oceans Road.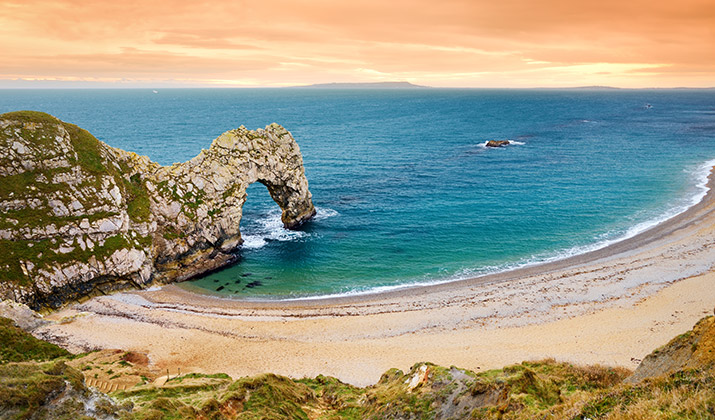 There is plenty to do around Durdle Door, including kayaking, coasteering, mountain biking, visiting castles and more.
Save over £40 on your trip to Durdle Door from Bath Spa with a Family & Friends Railcard. The nearest Station to Durdle Door is Wool.
Snowdonia vs Cook Mountain
New Zealand's Cook Mountain is the tallest in the country, and Snowdonia is home to England's highest peak. They are both popular tourist destinations for climbers. A train trip from Birmingham to Snowdon will take almost just over four hours, or a flight to New Zealand will take over 30 hours.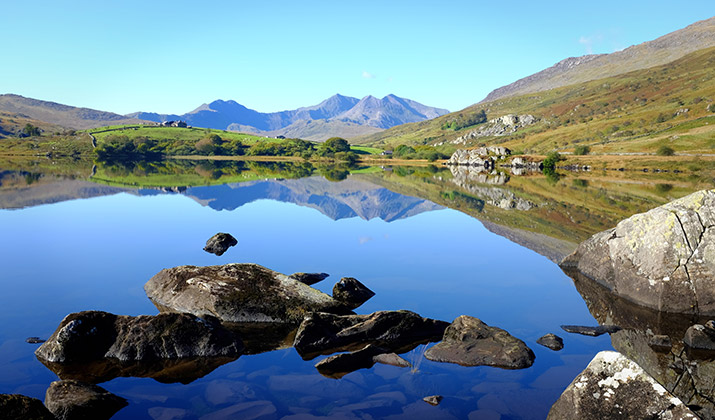 With lots of trails to explore, ziplines to whizz down and castles to visit, you will be spoilt for choosing what to do.
Save over £30 on your trip to Snowdonia from Birmingham New Street with a Veterans Railcard. The nearest station to Snowdonia is Snowdon.
Canterbury vs Venice
While one is among the most visited cities in the UK, the other can get rather smelly in the summer heat. Canterbury lies on the River Great Stour and is a UNESCO World Heritage Site.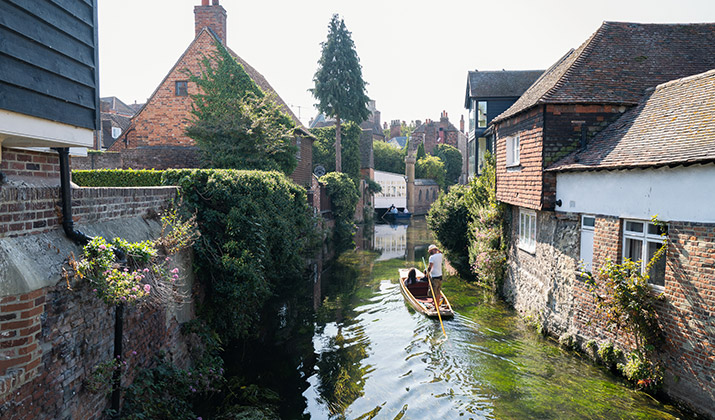 While you may ride a gondola in Venice, you can enjoy punting and a truly British experience during a guided tour in Canterbury.
Save over £18 on your trip to Canterbury from London Victoria with a 26-30 Railcard. The nearest station to enjoy a punting experience is Canterbury West.
Bath vs Rome
If the Roman-built baths are the closest you'll get to Rome this year, do not fear. Bath is a fantastic city in Somerset that became a famous spa city in the Georgian era..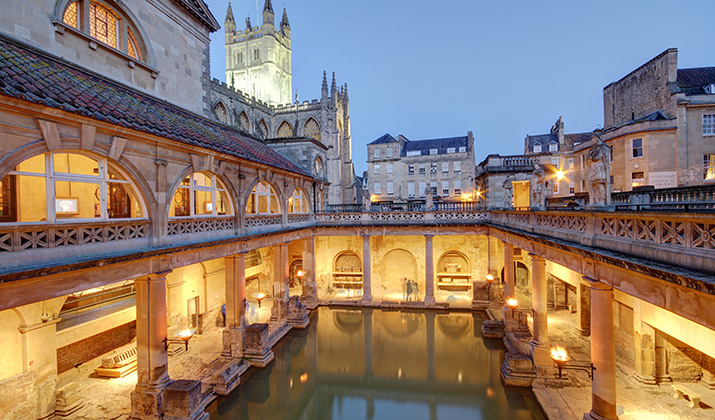 Enjoy Spas, canal rides, the Royal Crescent, and some lovely lush green parks.
Save over £51 on your trip to Bath from London Charing Cross with your Two Together Railcard. The nearest station to the Roman Baths is Bath Spa.
Kyoto Gardens vs Kitaakita city, Japan
To experience a beautiful and tranquil Japanese garden in the middle of a city, you don't have to travel to Japan. A peacock may even be running around, adding to the atmosphere.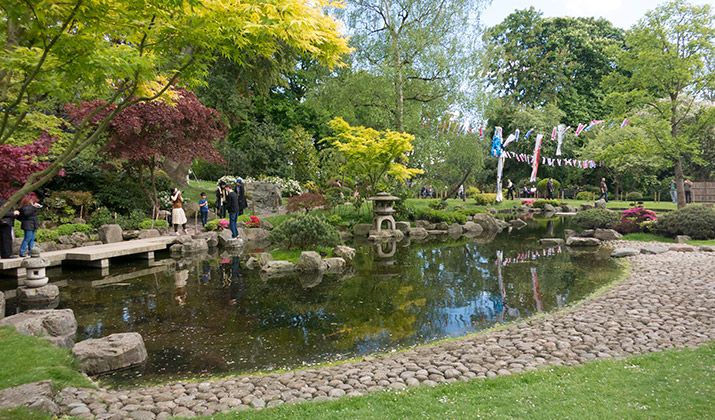 Save over £12 on your trip to London from Leighton Buzzard with a 16-17 Saver. The nearest National Rail station to Kyoto Gardens in Holland Park is London Euston.
Is your favourite location missing?
Let us know what it is, and we'll share it with our community. Not found a favourite location yet? When you're ready to travel go and explore for less by saving 1/3 off your rail travel with a Railcard. Find out which Railcard is best for you here.
Travel again, save again.
For just £30 a year, get ⅓ off rail travel plus deals on meals, hotels and loads more!
A railcard pays for itself in just one or two journeys. So start planning your next trip today.
Safety First.
Travel with confidence. Please wear a face covering (unless exempt), travel at quieter times and book in advance where you can. Check and follow the latest Government advice and guidance on our Travel Advice page before planning your next journey.
Prices checked on 14 June 2021 for travel on 19 June 2021.