Top locations people want to visit post-lockdown.
19th July 2021
The rail industry carried out some research that revealed the places people most wanted to visit when the restrictions have lifted . Check out the list and start planning your next adventure by train today.
1. London
Unsurprisingly, London is one of the most popular destinations for visitors of all ages. Its range of accommodation options and attractions make it an excellent destination for a short getaway or a last minute day out reconnecting with your family and friends.
Experience all that London has to offer and rediscover the things you've missed, and things you are yet to discover, in this magnificent city. From free museums and world-class theatres to shopping and amazing places to eat, there really is something for everyone to enjoy.
Don't forget to check out Days Out Guide before you travel to get 2FOR1 off some of your favourite attractions like The Shard, London Zoo, ,SEALIFE and more.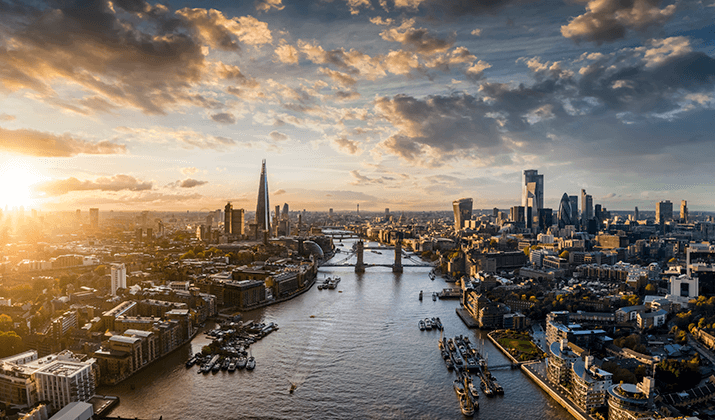 Travelling to London.
London is really accessible with multiple train stations to help you get from A to B with ease.
2. Bath
The 'original wellbeing destination', Bath has been a popular destination since Roman times. The city's underground springs draw in lots of visitors to the traditional Roman Baths and the modern Thermae Bath Spa, which has an infinity pool on its roof to provide you with fantastic views of the historic city.
Home to some of Britain's finest independent shops, cafes, restaurants and bars you can indulge in some of your favourite pastimes within walking distance from Bath Spa station. On your visit you can enjoy an extraordinary collection of museums and galleries, theatres, music, and Georgian architecture straight out of a Jane Austen novel. You'll also get to see the iconic Royal Crescent, which has been featured in lots of great movies and series including Bridgerton, The Duchess and Vanity Fair.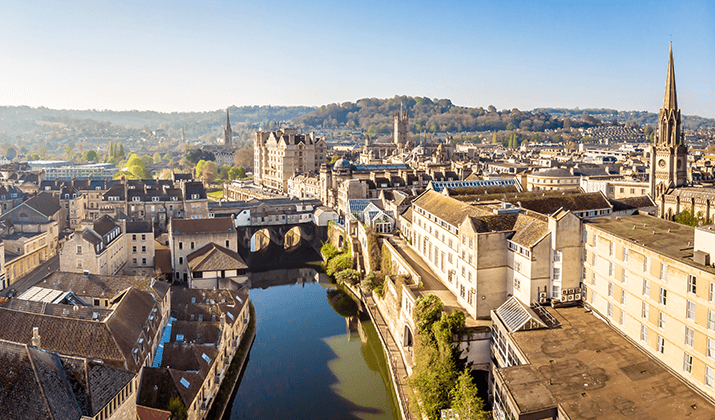 Travelling to Bath.
Located in the heart of Bath's city centre is Bath Spa Railway Station. With most central attractions within easy walking distance.
3. Manchester
From its roots as the first industrial city in the world to its current status as a multicultural urban oasis, a trip to Manchester provides a fascinating glimpse into both its rich past and exciting future.
Steeped in sporting history, a visit wouldn't be complete if you didn't check out the National Football Museum or Old Trafford Stadium - home to the Red Devils. If food is your thing, there are more than 70 Indian restaurants in Rusholme's curry mile making it a top-rated destination for foodies.
Youthful, diverse, energetic and bursting with character, the city is home to various unique and eclectic restaurants, bars, shops, museums, galleries and hotels. The Greater Manchester boroughs also offer a variety of visitor experiences, including quaint market towns, traditional pubs, and beautiful parks and waterways to explore on foot or by bike.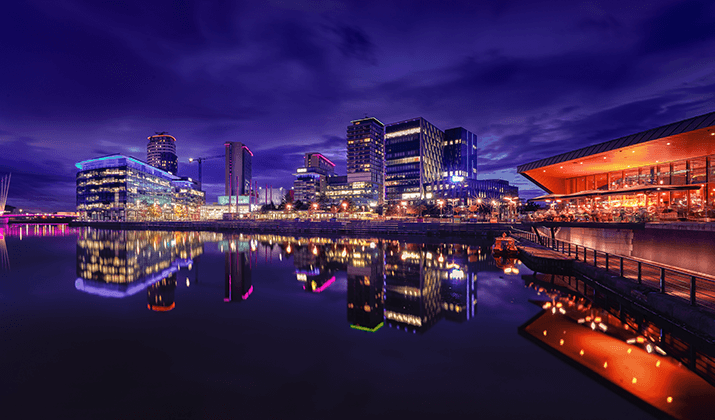 Travelling to Manchester.
There are three stations in the city centre, from which you can walk to most top attractions:
Piccadilly
Oxford Road
Victoria
4. Brighton
You can find pebble beaches, kitsch boutiques, and palatial architectural gems in this hip south coast city. Explore attractions such as the Brighton Palace Pier, the Royal Pavilion, and the British Airways i360 for unobstructed views of Brighton and beyond. Take a summer stroll on the seafront, grab an ice cream, or get lost in the narrow lanes lined with coffee shops.
Walking or taking public transportation make it easy to explore this compact city. Do not forget to visit the city villages such as Hove with its colourful beach huts and Regency architecture and Rottingdean, a picturesque, traditional English village.
Visitors to the marina can find yachts, kayaks and powerboats, while bicyclists and hikers can explore the South Downs through bridleways and tracks.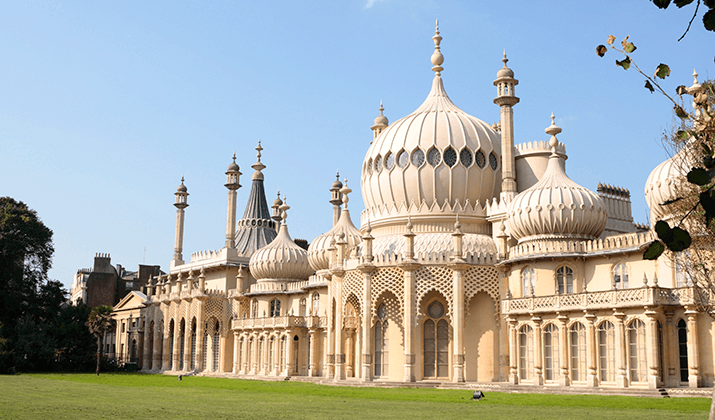 Travelling to Brighton.
Trains to Brighton arrive at the mainline Brighton station on Queens Road.
5. Liverpool
The city of Liverpool offers a variety of things to do, including a lively waterfront, grand architecture, and a thriving arts and culture scene. Its two football clubs and the Beatles have made Liverpool one of England's most legendary cities.
Museums and galleries can be found throughout the city, and there's something for everyone. Whether your interest is maritime (Maritime Museum), the world's creatures (World Museum), art (Lady Lever Art Gallery), or even if you want to delve into the history of Liverpool (Museum of Liverpool).
In the Baltic Triangle, you'll find dozens of top restaurants and bars for you to enjoy at night. Originally the home of legendary Cream, Liverpool has become the birthplace and cradle of house music.
As the largest Grade I listed park in the UK, Sefton Park deserves special attention; you can explore 200 acres of parkland and a lake. Southport and Wirral host botanic gardens, and Formby has a red squirrel reserve to keep you busy.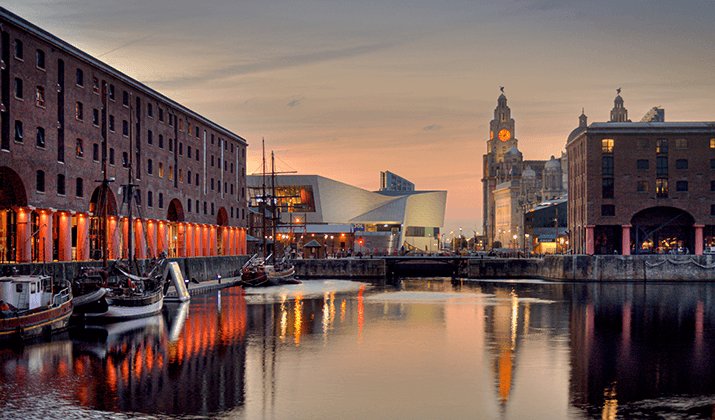 Travelling to Liverpool.
Liverpool Lime Street is the central train station within Liverpool City Centre.
6. Cambridge
Experience a city rich in history and culture and a place of world-changing discoveries and home to more Nobel Prize winners than any other.
The collection of museums in Cambridge is one of the most impressive in the country. The University of Cambridge can take you on a historical journey through its eight museums - from the sciences to archaeology to zoology and polar exploration.
The fen landscape flows right into the city's centre along the River Cam, making it a truly green city. There are trees along The Backs where you can picnic, take in the magnificent displays of flowering bulbs in spring, or relax in the beautifully maintained college grounds and Fellows' gardens.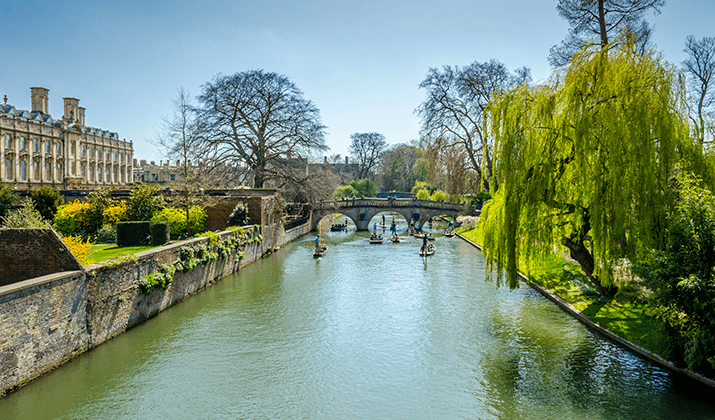 Travelling to Cambridge.
Cambridge railway station is the main station servicing the city, about 1 mile south-east from the city centre.
7. Glasgow
There is plenty of character, vitality, and excitement in Glasgow, making it a unique city break destination. A number of its museums are free of charge, and the architecture is impressive.
The city centre of Glasgow is one of the best shopping destinations in the UK, outside of London's West End, and when it comes to nightlife, Glasgow knows how to have fun. Night owls will enjoy the great food, pubs and music venues in this city filled with nightlife.
There are also a number of great things to do around Glasgow from a visit to Balloch Castle Country Park on the east of Loch Lomond to an Ewardian gem, Pollok House, which is a great place to grab a bite to eat before exploring the country park's woodland and riverside walks.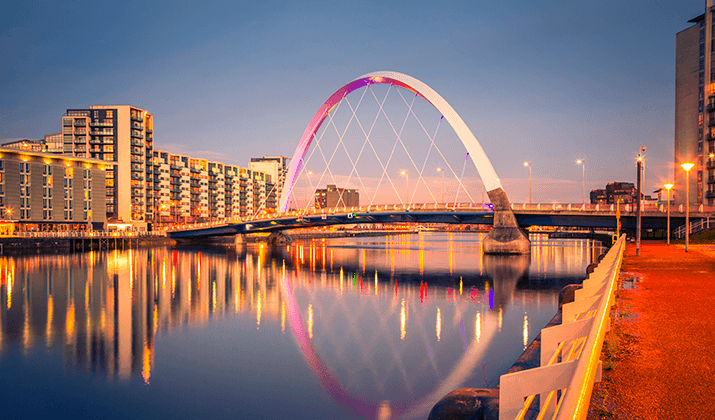 Travelling to Glasgow.
Glasgow Central Station is located in the city centre and links Glasgow by rail to all UK cities south of Glasgow. Glasgow Queen Street Station operates routes mainly to and from Central and Northern Scotland.
8. Newcastle
Newcastle has a fantastic range of things to do whether you're looking for a romantic getaway with your significant other, a family-friendly getaway, or an adventure-filled weekend with your friends. Visit must-see visitor attractions and venues in the region packed with sport, music, art and heritage.
Its wide range of excellent museums will appeal to science and book lovers, as well as to history buffs. Most are free and open daily.
You can attend theatre performances, attend comedy shows, dine in restaurants and bars, and dance with the Geordies to live music in the evening.
If thrill-seeking sports enthusiasts come to the city, they will find plenty of things to do and places to visit to satisfy their passion for watching and participating in live sports.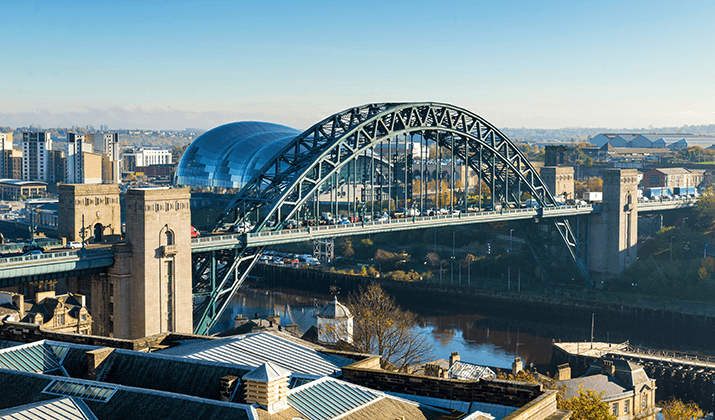 Travelling to Newcastle.
Newcastle Central Station is located in the heart of the city centre, and the station is within walking distance of many major destinations.
9. Cardiff
A compact, friendly city, Cardiff has a lot to offer. Pop-up dining, intimate gigs, and global sporting events await you. In the heart of the city, there is a 76,000-seater stadium, a stunning castle, and national museums.
Discover 200 years of history at Cardiff Castle, one of the most popular tourist attractions. Both the National Museum and St Fagan's Museum are freely accessible in Cardiff. You can take a stroll over the picturesque Cardiff Bay Barrage or book a trip out to Flat Holm Island if you like to get outdoors.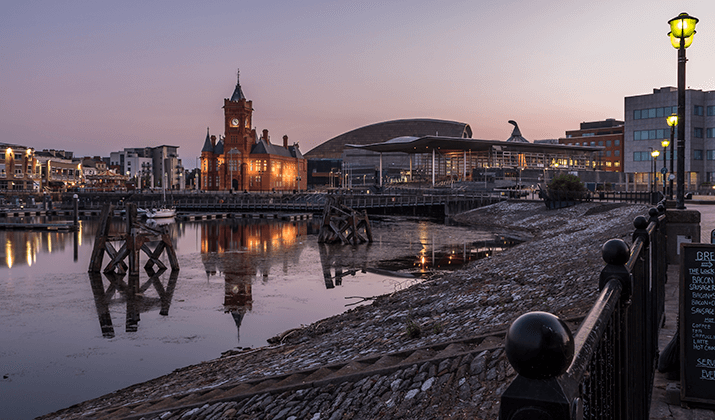 Travelling to Cardiff.
Cardiff Central Station is located in the heart of the city centre and is within walking distance of many central destinations.
10. Birmingham
Birmingham, the second-largest city in England, is a city of rich and diverse culture. You can explore the majestic waterways lined with history, culture and lifestyle as you admire the forward-thinking architecture.
The city's industrial heritage is evident in several landmarks dating back to the 18th century, which bears witness to Birmingham's role as a manufacturing powerhouse. In addition, there is an extensive, thriving canal system, which radiates from Sherborne Wharf and is lined with trendy cafes and bars.
With tons of museums, arenas, and shops, the city is the perfect place to spend a romantic weekend or a getaway with the family. Enjoy a visit to the world-famous Cadbury's World before heading into the city centre to browse at the Bullring.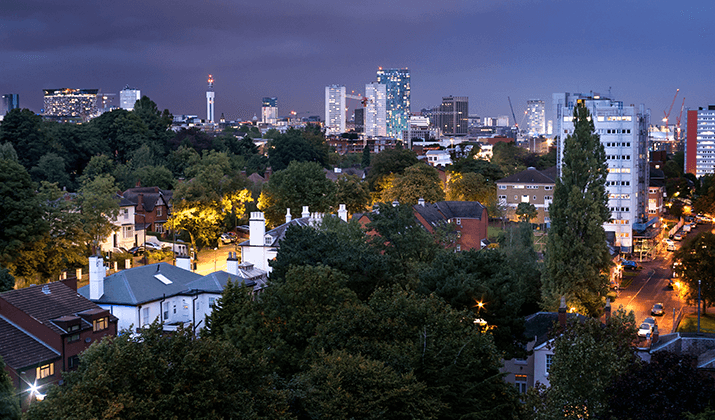 Travelling to Birmingham.
There are three city centre rail stations providing fast and frequent connections to both local and national destinations:
Birmingham New Street Station
Birmingham Moor Street
Birmingham Snow Hill
Leeds
You'll find a thriving arts scene, a rich sporting heritage, and a pulsating nightlife in this city that's packed with variety and excitement. Leeds was at the forefront of the wool industry during the sixteenth and seventeenth centuries, which led to the city's growth.
Leeds combines grandiose Victorian architecture with urban redevelopment, making it the perfect destination for a shopping spree, romantic getaway, or a night out.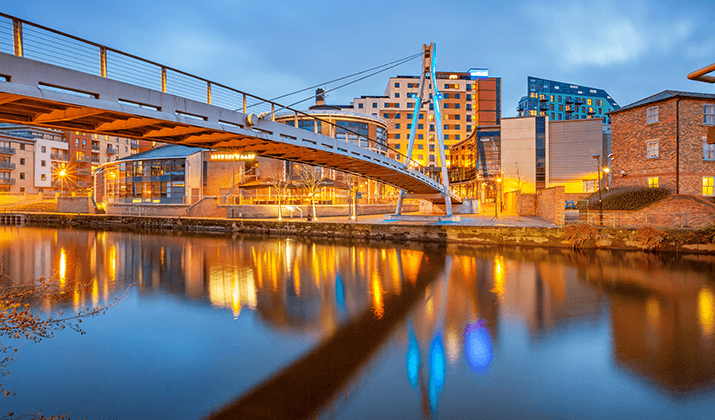 Travelling to Leeds.
Leeds Station is located in the heart of the city centre, and the station is within walking distance of many major destinations.
12. Nottingham
Nottingham is best known for Robin Hood and Sherwood Forest, but it also offers a variety of other attractions, live performances, nightlife, art, and sports. The city's independent shopping scene is located above a network of 800 sandstone caves from the dark ages.
Sherwood Pines Forest, in Nottingham's rural area, offers the best trails for cycling, from family-friendly cycle paths to extreme mountain biking. Relax in a private cabin with an outdoor hot tub in the heart of Sherwood Forest, or get glamping at the Teversal Campsite. Try your hand at archery while exploring ancient woodlands.
Nottingham Arboretum will transport you to Neverland. The Arboretum outside Nottingham's city centre is the inspiration behind J.M. Barrie's classic children's tale 'Peter Pan'.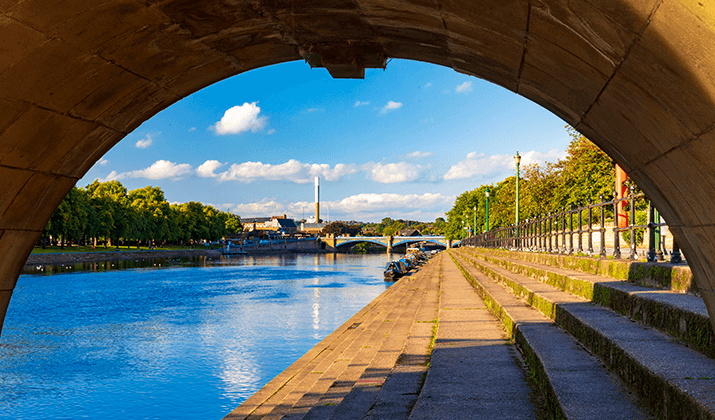 Travelling to Nottingham.
Nottingham Station is the main station and is located just a 10-minute walk from the central shops and restaurants.
---
Travel again, save again.
For just £30 a year, get ⅓ off rail travel plus deals on meals, hotels and loads more!
A railcard pays for itself in just one or two journeys. So start planning your next trip today.
Safety First.
Travel with confidence. Please wear a face covering (unless exempt), travel at quieter times and book in advance where you can. Check and follow the latest Government advice and guidance on our Travel Advice page before planning your next journey.