The importance of 'Fresh-Airs Week'
28th September 2022
As a new intake of 'Freshers' start university this month, new research reveals that graduates across the UK are encouraging students to get outside and explore more during their university years.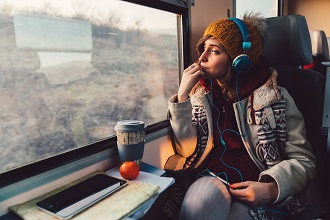 75% of recent graduates regret not getting outside and exploring more during their university years, with 95% believing this is key for maintaining good mental health

Almost 1 in 3 graduates believe getting outdoors improves productivity and concentration, helping students to perform better and reach their full potential
Graduates

said that improved university/life balance (36%), making memories with friends (34%), and broadening horizons and seeing new places (32%) were the main benefits of getting out and about during university but a quarter (25%) said lack of money prevented them from venturing further afield – a statistic likely to be exacerbated further by the current cost-of-living crisis.
The 16-25 Railcard offers students a lifeline with 1/3 off train travel by helping them explore further afield, get to student jobs or back to their hometown for a home cooked meal and to get their washing done.
Being outdoors improves productivity, concentration, and creativity, which all contributes to helping university students reach their full potential while providing the perfect opportunity to create memories and shared experiences with new friends.
Studying in Manchester? Students can venture to Oxenholme in the Lake District in under 90 minutes and visit England's largest National Park with more than 3,100 kilometres of land to walk, cycle and ride. Bristol student? Head to Swindon in under half an hour and climb White Horse Hill, the highest point in Oxfordshire with stunning views stretching over six counties. Need to escape the hustle and bustle of lively London? Why not hop on a train at St Pancras, and you can take in the iconic White Cliffs of Dover in just over an hour?
The 16-25 Railcard is a great way for students to save on travel, offering 1/3 off rail fares when travelling by train. Students can save money on trips into town, days out to the coast, weekend festivals, and visits home – as many times as they like. Costing just £30, a Railcard pays for itself in just a couple of journeys and saves students an average of £159 a year.