My Top 5 Picks for a Family Day Out in Surrey
5th April 2017
The London Mummy shares her top picks for things to see and do with the family in Surrey
Hobbledown - Epsom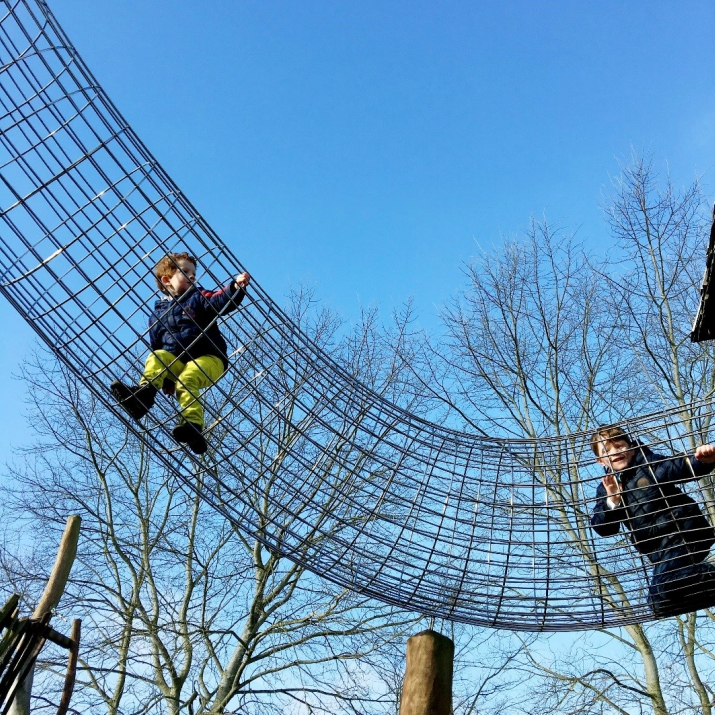 Hobbledown is a truly magical place to visit, with an atmosphere to match that found on the Harry Potter movie sets. There are teepees filled with arts and crafts, face painting and a bubble man riding through the park on his bicycle to astound and delight the little ones.

There are two main outdoor areas: one for younger children and an underground maze for those brave enough to enter. I always find it amazing to see the courage of children as they drop into the unknown - rather them than me!

If the weather's a bit iffy, why not head over to the indoor arena where another web of tunnels offers excitement to children of all ages. It's super modern and kept my kids entertained for over an hour, giving me some much needed peace and quiet in which to read my paper.
The food at Hobbledown is also very good, so don't worry about bringing your own picnic - there are delights for every appetite - including babies.
If you're travelling by rail, the nearest train station is Epsom.

http://www.hobbledown.com
Godstone Farm - Godstone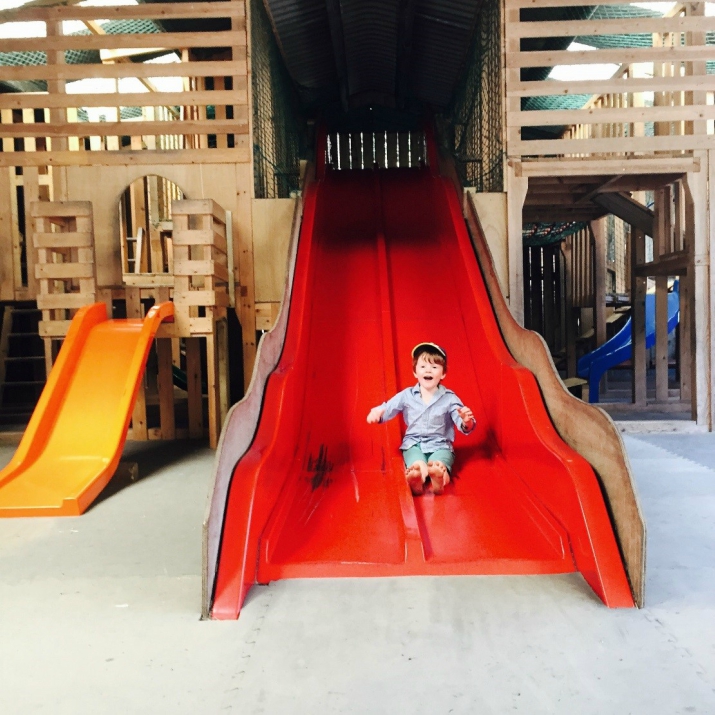 We've had a season ticket to Godstone Farm for over 3 years and always come away craving another visit – there's just so much to do!
Not only are the animals plentiful, but the farm also celebrates the seasons beautifully. Our favourites are Halloween and Christmas which see the woodland pathway transformed into a vision of lights, with children's characters and a few other surprises along the way.

The indoor slide barn is also great fun and the play room next door will enable your children to while away the hours amongst the slides and soft play. If you dare, you can also enter the creepy crawly house to experience tarantulas and snakes close up, however if you prefer your animals a bit fluffier, then there's a petting zoo full of rabbits to cuddle until your heart's content.

When the weather is fine, the adventure playground is hard to beat. Zip wires, sand pits and sledge racing are a few of the activities available.
With plentiful picnic tables and an ice cream stall for afterwards, this is a wonderful place to visit.
If you're travelling by rail, the nearest train station is Godstone.

http://godstonefarm.co.uk
Priory Farm - Reigate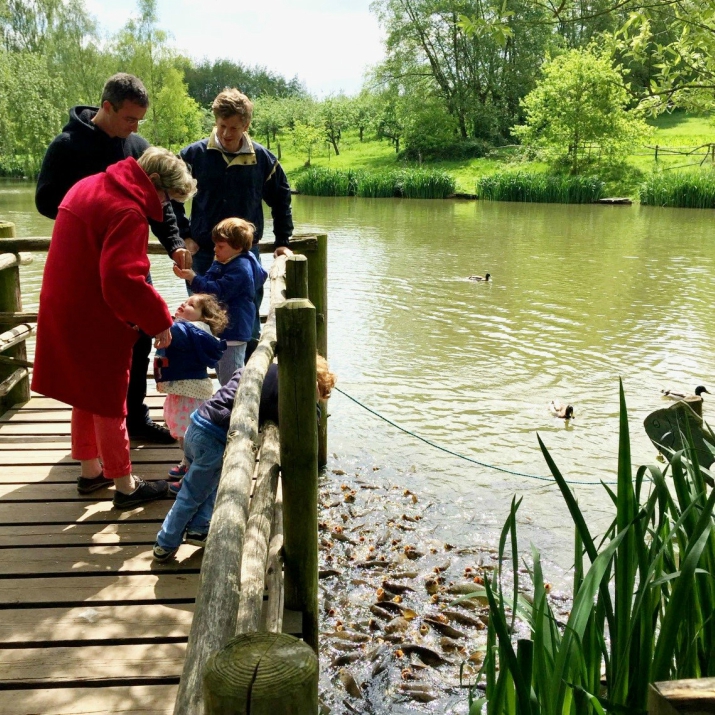 Priory Farm is a lovely place to visit on a family day out in Surrey. Not only can you do a bit of shopping in the nursery, before heading over for lunch in the play enclosure (complete with sand pit and climbing frame) but you can also gear yourself up for an afternoon of exploration on their interactive Discovery Walk.

For a meagre £2 pounds, you can embark on a walk around the grounds of Priory Farm, with lots of things to see and do along the way – I can particularly recommend the quiz which my 6 year old loves and my personal favourite, the sunflower maze. Be prepared though, it's a full size maze, so be sure to bring your 'A' game!
The duck run at the end of the walk is also hugely popular. Buy a duck for a pound and they can do it as many times as they like, usually only stopping when they are soaking so bring your waterproofs!
If you're travelling by rail, the nearest train station is Reigate.

http://www.prioryfarm.co.uk
Garsons Pick Your Own Farm - Esher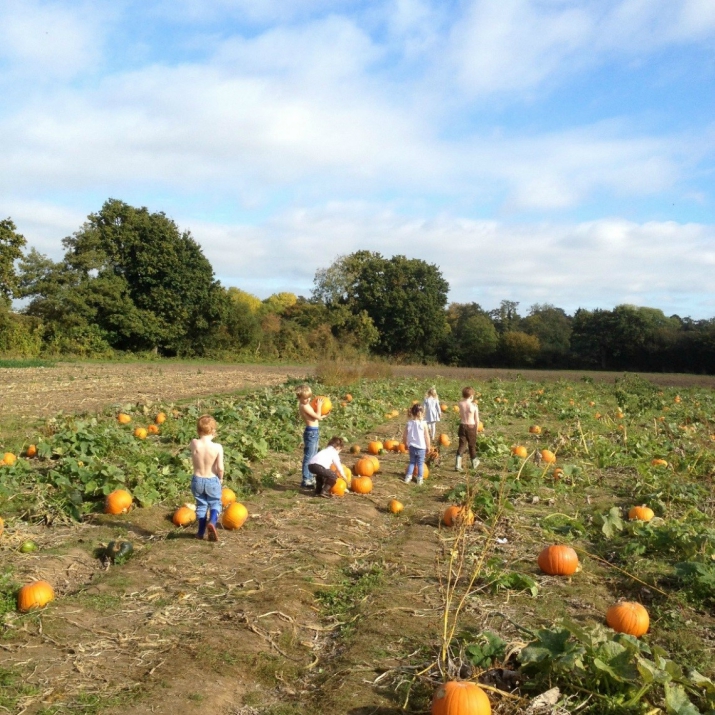 If you are a family of little pickers, look no further than Garsons for a pick your own extravaganza. We picked our own pumpkins in October but if you head there in the Spring and Summer you will be able to stock up on your fruit and veg for a couple of weeks.

There is also a vast shop that is FANTASTIC for Christmas decorations and children's presents. Don't do what I did though and lose one of my children…
If you're travelling by rail, the nearest train station is Walton-on-Thames.

https://www.garsons.co.uk
Top Golf – Addlestone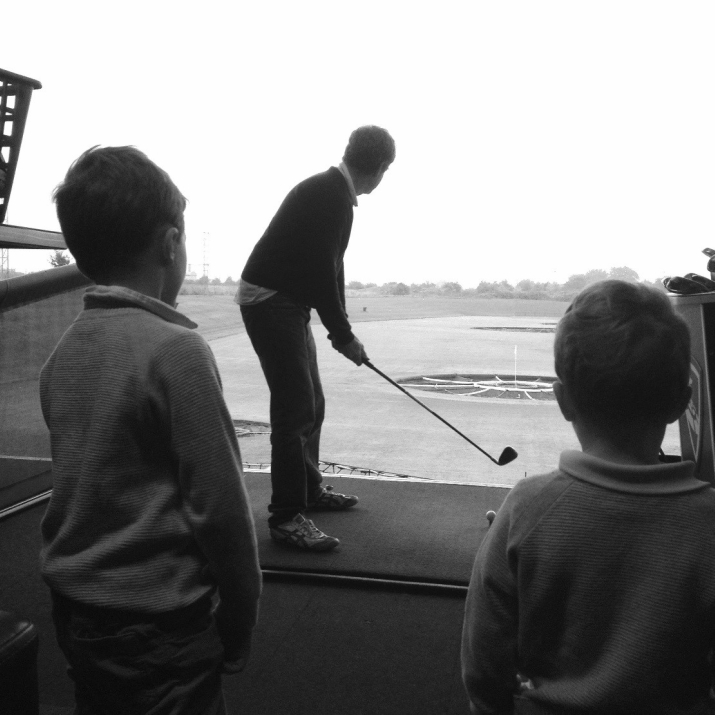 If you have a budding golfer in your midst or just fancy doing something a bit different, then head down to Top Golf in Surrey.

It isn't like a normal driving range - think of it like a bowling alley with scores on a screen. Each participant has a bucket of balls and you take it in turns to hit the ball aiming for targets, getting points for accuracy and distance. Sadly there isn't a handicap system, but this doesn't deter the kids from trying their hardest.

You can also order food and drinks from your booth, adjust the temperature of your area and spy on a few celebrities that frequent the attraction. There is also a snazzy restaurant downstairs with screens all over, so sports fans won't miss out on the big game!
If you're travelling by rail, the nearest train station is Byfleet & New Haw.

https://topgolf.com/uk/surrey/
By Lucinda Robins