Car-free days out for less
2nd August 2021
You don't have to worry about parking, traffic jams or pollution on a day of exploring with friends and family when you travel by train. So, leave the car at home and start your adventure the moment you step on board.
Check out our top five fantastic, and Eco friendly, locations you can enjoy on a car-free day out.
Cambridge
Known for its beautiful architecture, charming cobbled streets and rich history, Cambridge is undoubtedly one of the most Instaworthy cities in the country. Here's just a small example of the things you can enjoy on a trip to Cambridge:
Take in parks, boathouses and as many of the universities 31 colleges you can find as you ride a vintage British bicycle on a guided tour, which will take you to the best spot to capture that iconic photo of Kings College Chapel.
The Fitzwilliam Museum, or the "Fitz" as it's known by locals, has been known as 'the finest small museum in Europe' due to housing over half a million pieces of artwork and historical artifacts by the likes of Michelangelo, Rembrandt, Picasso and Sir William Blake.
At the foodPark in Cambridge, local street food traders set up shop every Wednesday, Thursday, and Friday lunchtime. They're nearby Mill Road on Fridays, and they have everything from buttermilk chicken burgers to wood-fired pizza to churros and ice cream. Delicious. .
The Cambridge University Botanic Gardens are home to 8,000 plant species from around the world. Since it was founded in 1762 the garden has become a beautiful place for everyone to enjoy, and thanks to expert planning there's something new to see every season of the year.
If you decide to visit the city without hopping on a punt you are bound to raise a few eyebrows. One of Cambridge's most popular activities is punting along the river Cam, but you can beat the crowds if you do it at night. The riverside colleges look especially beautiful in the pink evening light.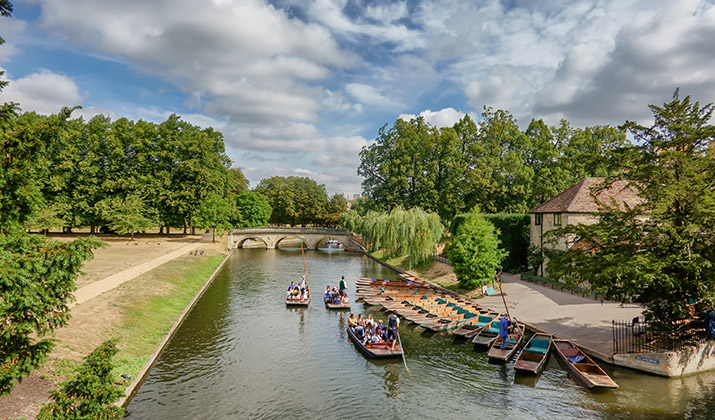 Getting there.
Cambridge is the main station servicing the city, about 1 mile south-east from the city centre. Two adults can save over £7 with a Senior Railcard1.
Oxford
With its prestigious university dating back to the 12th century, Oxford, affectionately known as the City of Dreaming Spires, is a medieval metropolis. There's so much more to Oxford than just its scholarly history, despite its popularity. You can:
If you're interested in learning more about the academic history of Oxford then book a tour of the university, and the city that houses it. At Christ Church College you'll get to see the inspiration for Hogwarts' Great Hall, and whilst you're at it you may even be able to uncover the locations featured in the TV detective series Inspector Morse.
If you fancy a fun and relaxing way to spend an hour of your time, hire a row boat on the River Cherwell. If rowing isn't your thing you could always try a pedalo, or hire a chauffeured punt so you have someone to do the hard work for you.
At The Story Museum, explore the endless magical depths of human imagination as you rediscover some of your favourite childhood books. There are interactive exhibitions, galleries and events that celebrate stories in all their forms for adults and children alike. The Enchanted Library will take you through a world of stories, or try Small Worlds, a patchwork land of picture books and nursery rhymes to dive into.
Spend the evening at The Bear Inn, a local favourite that has served locals since 1242. Earning the title as the oldest pub in Oxford, it's a great place to unwind with a home cooked meal after a day of exploring. Over 4,500 ties are displayed in glass cases on the wall and ceiling of this hidden gem, giving the interior a quirky and distinct style.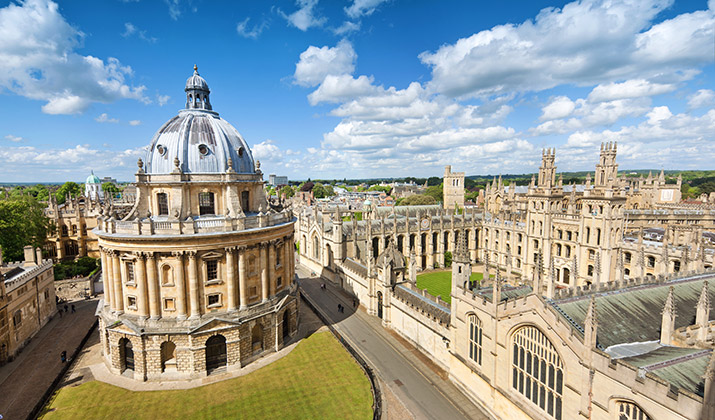 Getting there.
Oxford is the main station servicing the city, a few minutes walk from the city centre. Two adults can save £25 with a Disabled Persons Railcard2.
Bristol
The Clifton Suspension Bridge by Brunel is as iconic to Bristol as Banksy's street art. And don't forget Aardman, creators of plasticine superstars Wallace and Gromit. With countless innovative museums packed with relics and objets d'art, Bristol is the perfect place to spend a day with all the family.
On a guided Pirate Walk, uncover infamous pirate lairs, smugglers' caves, and other tales of Bristol's maritime past. Along Bristol's iconic Park Street, you can learn about the city's history, including the university where Winston Churchill once served as Chancellor.
Experience the true home of the Concorde at Aerospace Bristol, the museum that tells the story of Bristol's significant contribution to aviation. Board a supersonic Concorde as you explore the museum.
Experience Bristol's Clifton Suspension Bridge on a free cycling tour and pedal to your heart's content along its cycle-friendly routes.
Visit the University of Bristol Botanic Gardens and marvel at nature in addition to the teaching that takes place there. The gardens also offer flora and fauna unique to the Bristol area.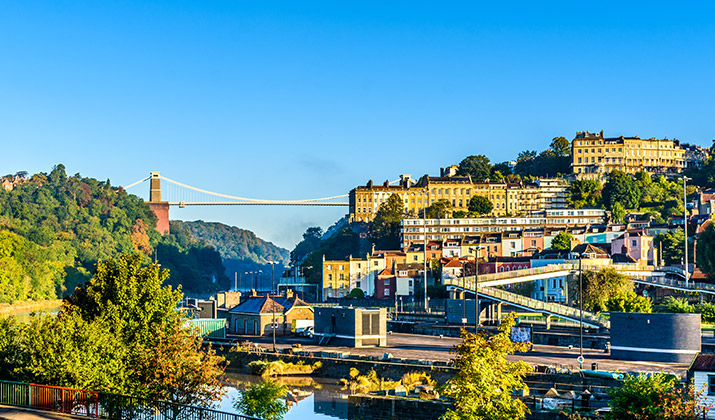 Getting there.
Bristol Temple Meads is the nearest station servicing the city. Two adults and two kids can save over £65 with a Family & Friends Railcard3.
Edinburgh
Edinburgh is a city filled with history, top attractions and beautiful architecture that you'll find hard to forget. Discover the Medieval Old Town and the Georgian New Town that sit side by side in the city, and visit unique attractions throughout.
You should put it on your list of places to see in Edinburgh. Edinburgh Castle, which sits atop the city's Castle Rock, is home to significant Scottish artefacts, such as the oldest crown jewels in the United Kingdom.
A fantastic indoor attraction in Edinburgh is the National Museum of Scotland. You'll find over 20,000 unique artefacts in the museum, making it a fun place for the whole family. Experience the wonders of nature and the catacombs of Egypt, as well as modern technology.
Arthur's Seat in Holyrood Park is perhaps one of the most iconic places to visit in Edinburgh. 251m above sea level, this ancient volcano offers 360-degree views of Edinburgh and the Lothians. See the medieval remains of St Anthony's Chapel or feed the ducks and swans on Duddingston Loch. You can enjoy a variety of paths and trails suitable for all, including the wheelchair- and buggy-accessible trail to St Margaret's Loch.
Climb Calton Hill early in the morning to see the sunrise over the city. In addition to the National Monument, where the Parthenon of Athens was modelled after, the UNESCO World Heritage Site has many historical monuments.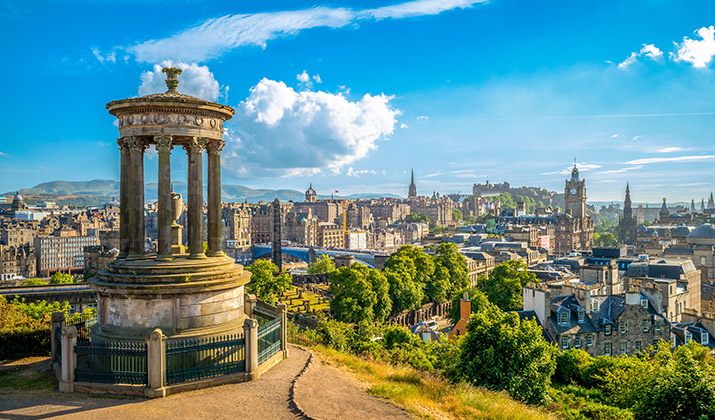 Getting there.
Edinburgh Waverley is the nearest station and will take you into the heart of the city. Two adults can save over £26 with a 26-30 Railcard4.
Sheffield
The city might be better known for things produced here like cutlery, silverware and stainless steel than the environment it's built on. But did you know more than a third of the city lies in the Peak District National Park, and there are five rivers and seven hills, with plenty of opportunities for high-energy entertainment.
One of Sheffield's most impressive walks is this 15-mile loop that links Sheffield's urban and rural areas. By connecting Sheffield's centre with its surroundings, this route showcases the greenery, wildlife, and natural beauty within its borders.
Take a paddleboard tour of some of Sheffield's historic waterways. Connect to the city's industrial past by exploring its fascinating history and film locations, all while trying to train your balance!
Axe throwing in the Viking style will test your skills. This is an excellent early-evening activity for waking up your appetite and thirst. Although it might seem easy at first glance, it's actually quite challenging.
Almost 60% of Sheffield is green space, making Sheffield the greenest city in Europe. The city has around 250 parks, woodlands and gardens. There are leading museums, art galleries, and historic sites within the other 40%, so you might want to combine a day of shopping with art and heritage, followed by coffee and food breaks in these urban getaway spots.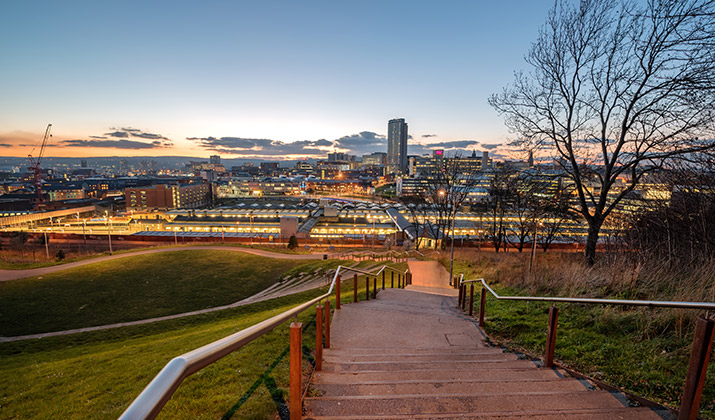 Getting there.
Sheffield is the nearest station. Two adults can save over £42 with a Two Together Railcard5.
Birmingham
In addition to being the second-largest city in England, it is a city whose culture is rich and diverse. While admiring the forward-thinking architecture, you can explore the majestic waterways lined with history, culture, and lifestyle. Several historical landmarks in Birmingham date to the 18th century, demonstrating the city's rich industrial heritage.
As one of the nation's greenest cities, Birmingham boasts an array of award-winning parks and green spaces, including 8,000 acres of award-winning horticultural sites.
In the evenings, 15,000 aluminium discs in the futuristic Bullring building, which houses various shops, bars, and restaurants, glow neon-bright. You can take a selfie next to the golden bull at the Bullring, one of England's most photographed landmarks.
Would you believe there are more canals in Birmingham than in Venice? Moreover, its picturesque landscapes and hidden nooks and crannies can only be seen by taking a boat tour of the city. There is the beautiful Sherborne Wharf in the heart of the city, situated on the 'Main Line'; it is a reminder of Birmingham's Victorian glory.
A place where you can lose yourself among precious jewels or even create your own pieces of jewellery, the Jewellery Quarter is the ideal place to indulge your love of sparkle. Listed as a Conservation Area, more than 200 of the area's buildings date back more than 200 years.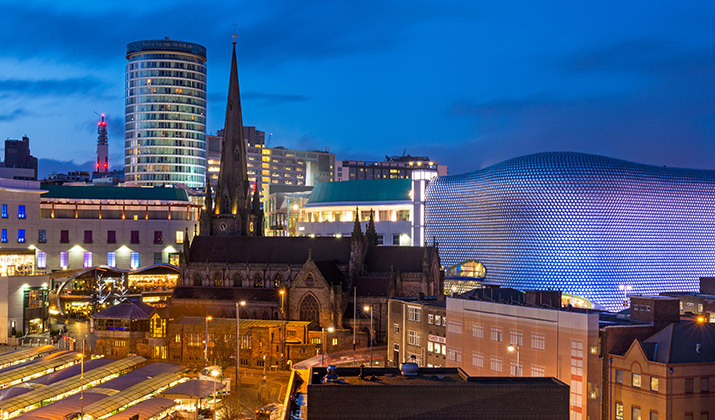 Getting there.
Birmingham New Street, Moor Street and Snow Hill stations service the city and are all within walking distance of the city centre. Two 16-25 year-olds can save over £4 with a 16-25 Railcard6.
Travel again, save again.
For just £30 a year, get ⅓ off rail travel plus deals on meals, hotels and loads more!
A railcard pays for itself in just one or two journeys. So start planning your next trip today.
Railcard Savings.
1 Railcard price savings are based on Off-Peak Day Return tickets from Peterborough to Cambridge for 2 adults with a Senior Railcard. Prices checked on 26 July 2021 for travel on 7 August 2021.
2 Railcard price savings are based on Off-Peak Day Return tickets from Birmingham to Oxford for 2 adults with a Disabled Persons Railcard. Prices checked on 26 July 2021 for travel on 7 August 2021.
3 Railcard price savings are based on Off-Peak Day Return tickets from Plymouth to Bristol Temple Meads for 2 adults and 2 children with a Family & Friends Railcard. Prices checked on 26 July 2021 for travel on 7 August 2021.
4 Railcard price savings are based on Off-Peak Day Return tickets from Manchester to Edinburgh for 2 adults with a 26-30 Railcard. Prices checked on 26 July 2021 for travel on 7 August 2021.
5 Railcard price savings are based on Off-Peak Day Return tickets from London to Sheffield for 2 adults with a Two Together Railcard. Prices checked on 26 July 2021 for travel on 7 August 2021.
6 Railcard price savings are based on Off-Peak Day Return tickets from Northampton to Birmingham for 2 adults with a 16-25 Railcard. Prices checked on 26 July 2021 for travel on 7 August 2021.