Back to uni checklist
30th September 2021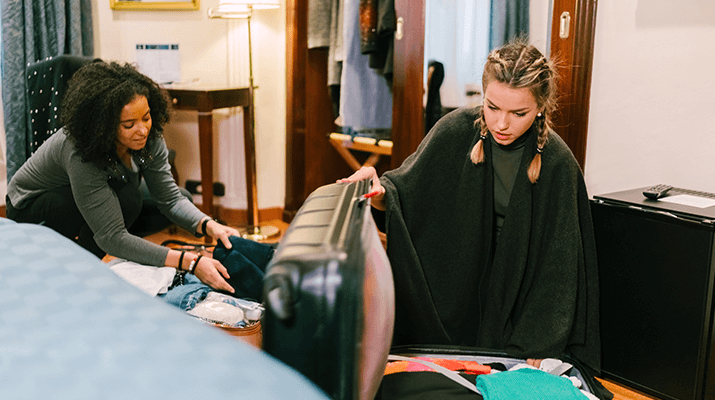 Off to university? You might already have an extensive shopping list and packed your favourite teddy (no judgements here!) – but be sure to check you have packed those all-important key items using our list of essentials.
Bookmark this page so you can double check you haven't left home without something important.
Important Documents
Passport photos
Passport or driving licence
NHS number
National Insurance number
Doctor and dentist details
University documents
Student Finance documents
Accommodation contract
Electrical Items
Power extension lead
Mobile phone
Laptop
Headphones
Device chargers
Ethernet cable
Hairdryer and hair styling tools
Bedside lamp
Kitchen Items
Bowls and plates
Cutlery
Mugs and glasses
Bottle and tin opener, corkscrew all-in-one
Pots and pans
Knife set
Chopping board
Tea Towels
Oven Gloves
Dishcloths/sponges
Foil and cling film
Cleaning products
Bedroom Items
Bedding
Hangers
Laundry bag/basket
Clothing Items
Clothes and shoes for lectures
Clothes and shoes for nights out
Hats, scarves, gloves, sunglasses
Nightwear, loungewear and slippers
Bathroom Items
Towels - various sizes
Hand soap
Shower gel
Shampoo
Multi-surface cleaner
Shower shoes/flip-flops
Nail clippers
Toothbrush and toothpaste
Sanitary products
Razors and shaving cream
Miscellaneous Items
Medication
Paracetamol
Cold & flu medicine
Plasters/First Aid kit
Antiseptic cream/wipes
Umbrella
Reading this a little too late?
Don't panic. For some items, you may find it easier to buy when you're there. And don't forget, you can always use your Railcard to save yourself 1/3 off a trip back home, and maybe even get your laundry done while you're at it…
Tell your family to save too
If you're planning on showing your family around your new town, lure them into paying you a visit using a Two Together or Family & Friends Railcard. As a Railcard holder, they'll also benefit from discounted leisure rates at IHG® Hotels & Resorts. Winning!