Avoid the crowds: Hidden city gems.
7th July 2021
It's fun to discover those hidden city gems you didn't expect, whether you visit for work or a quick city break. There are no doubt many tucked away in pretty much every city, but we thought we'd inspire a hunt by offering a few unusual finds to start you off.
London - The Hill Garden and Pergola
A hidden delight of Hampstead Heath, which overlooks West Heath, is the Pergola, a perfect location for taking romantic pictures or stopping for a picnic lunch with your fellow adventurer.
Situated in The Hill Garden, a beautifully landscaped garden that was once the private garden of a now demolished manor house, it is the perfect escape, for anyone looking to enjoy the serenity and tranquillity of lush greenery.
Getting there.
The nearest train station is West Hampstead Thameslink, with the Pergola just a 6-minute journey on the London Overground or a 10-minute bike ride away.
Brighton - St Peter's Church in Preston Park
The piers, pubs, boutiques and pebbles make Brighton a popular seaside location. There is, however, a hidden beauty spot you must see, so take a tour off the beaten path on your next trip to Brighton to witness it.
In an idyllic wooded churchyard adjoining an 18th-century manor house, in the city's largest urban park, you'll find a simple 13th century flint church with medieval wall paintings, situated in an ideal setting to escape the beach day crowds.
Peering into the grounds of St Peter's Church is like being transported back in time, beautiful wildflowers are dotted around ornate, crumbling headstones and crypts – providing a secret garden steeped in history in the heart of the city. If you get a chance take a look inside to see the three remaining wall paintings, known as Frescoes, which would have been a common feature in churches during the Middle Ages.
Getting there.
The nearest station is Preston Park, Brighton. The church is approximately a 9-minute walk from the station.
St Peter's church is located next to Preston Manor in Preston Park, Brighton. The church is not to be confused with the city parish church of St Peter's, which is located in the centre of Brighton.
Manchester - Portico Library
If you're looking for a perfect place to escape the urban hustle and bustle of Manchester's city streets then take a breather and refuel on a trip to Portico Library, which has been described as "one of Manchester's lesser-known gems" and is hidden away above The Bank pub on Mosley Street.
It's free public exhibitions, cafe and bookshop are open to all. If you're a bit of a foodie and are looking for something to decorate your Instagram feed, then make sure you book a table at The Portico cafe, one of Manchester's oldest and most spectacular lunch spots housed under the building's beautifully painted glass dome. The Portico is connected to Charlotte Street via an easy-to-miss entrance with a buzzer so keep your eyes peeled so you don't miss it.
Getting there.
The nearest train stations are Manchester Piccadilly/Oxford Road, each approximately a ten-minute walk.
Glasgow - Glasgow Necropolis
This Victorian Gothic garden cemetery is located on a hill near Glasgow Cathedral, making it the perfect place to visit if you're interested in architecture and tranquil surroundings. Providing a great viewpoint over a lot of the city, it's a great place to explore if you're looking for something off the beaten track.
Monuments of different architectural styles are scattered throughout the 37-acre cemetery. Stone memorials, buildings and sculptures were designed by famous Glasgow artists, including Charles Rennie Mackintosh, Alexander The Greek Thomson, and JT Rochead. You can take part in an organised walking tour where you can learn the fascinating stories of the 50,000 people remembered there.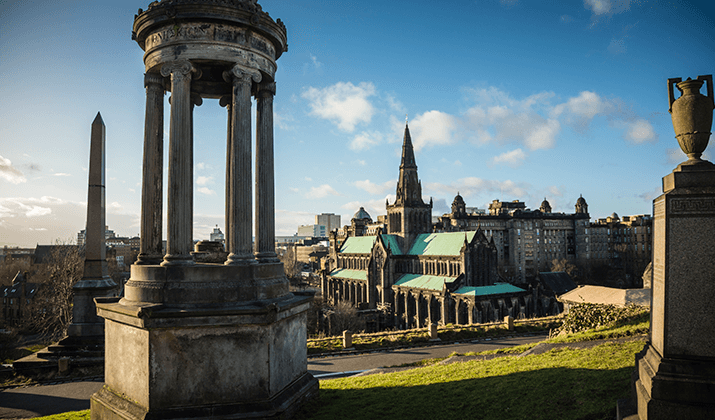 Getting there.
The nearest train station is High Street. The Necropolis is a short 14-minute walk away or a 7-minute bike ride. The main gates lie behind St Mungo's Museum of Religious Life and Art and adjacent to Glasgow Cathedral. The Post Code of the Necropolis is G4 0UZ.
Edinburgh - Dean Village
Dean Village is one of the most tranquil and scenic areas of the city, only five minutes walk from Princes Street. If you love history, photography, or simply want to get away from the crowds then this is the place to go.
One of the most striking buildings in Dean Village is Well Court, which was originally built for the mill workers and is situated above the Water of Leith. One of the best views to take in the majority of Dean Village can be found at the bottom of Hawthorn Bank Lane, where you can capture the views of the houses that line the street with views over the river.
Just a short walk away you can also find Dean Gallery and the Scottish National Gallery of Modern Art which are housed in buildings that have been converted and refurbished for use as galleries.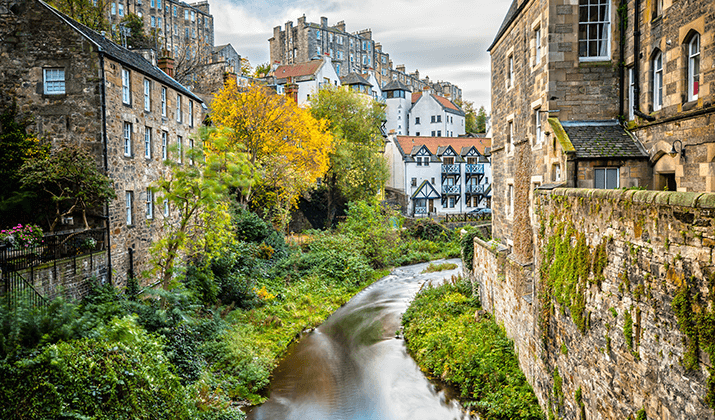 Getting there.
The nearest train station is Haymarket, a 15-minute walk or a 5-minute bike ride gets you to Dean Path in the village.
Sheffield - Alfred Denny Museum Of Zoology
Locals who have lived in Sheffield their entire lives may not even know about the Alfred Denny Museum, which was named after Sheffield University's first professor of biology. The zoological marvel reopened in 2012, with large glass cabinets full of specimens gathered over more than a century of collecting. There are even remains of now-extinct matter and letters from Charles Darwin to Henry Denny (Alfred Denny's Dad).
You can enjoy a free tour run by one of the university's student guides on the first Saturday of each month,, where you will get to see everything from a large spirit collection (animals stored in alcohol) to fossil filled chests of drawers and other curiosities of nature.
Housed on the University of Sheffield campus, the museum is in the Alfred Denny Building on the other side of the underpass from the Students' Union you need to make sure you pre-book your tour before you arrive.
Getting there.
The nearest train station is Sheffield, the museum is a 28-minute stroll through the city centre or a short 13-minute bike ride.
Cambridge - Cherry Hinton Hall
Set in a beautiful green park in southeast Cambridge you'll find the Grade II listed Cherry Hinton Hall. This Victorian country house forms the perfect backdrop to a family day out with an interactive tree trail and play area to keep even the youngest of adventurers entertained.
The park's large ponds and trees provide a haven for a wide variety of animals, birds, and insects. There's also a water play area, so make sure you take a towel in case you need to dry off.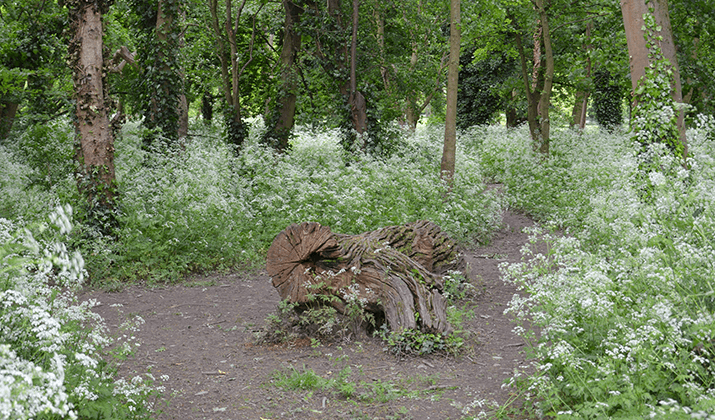 Getting there.
The nearest train station is Cambridge, with the park just a 7 min bus ride via the local City 1 & 2 bus service. If you fancy a leisurely stroll it's only a 24 min walk via Cherry Hinton Road.
Norwich - Plantation Garden
Norwich's best-kept secret, an English Heritage registered Grade II 3 acre garden, established over 100 years ago in the ruins of an abandoned chalk quarry. Plantation Garden is packed with an instagramable array of features you'll find at every turn. Huge gothic fountain, flower beds, lawns, Italianate terrace, 'Medieval' terrace wall, woodland walkways, 10-metre long Victorian-style greenhouse and a rustic bridge. It features a sizeable gothic fountain, flower beds, lawns, Italianate terrace, 'Medieval' terrace wall, woodland walkways and a Victorian-style greenhouse.
In the garden, which is heavily wooded, you'll find a variety of wildlife that you can try and spot whilst you experience the peace and tranquillity of Plantation Garden.
There is an entry fee of £2 per adult, but children go free.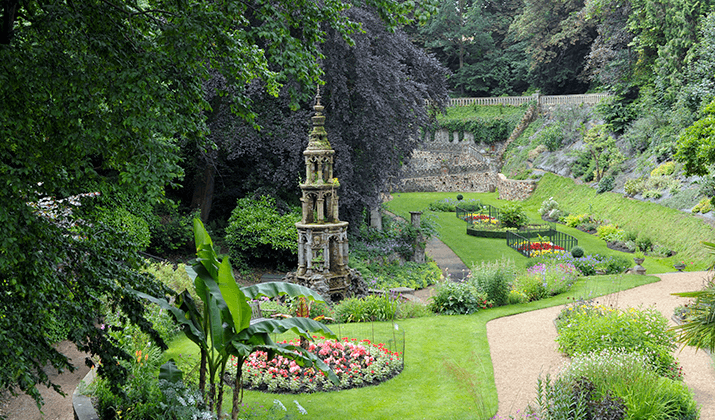 Getting there.
The nearest train station is Norwich, with the Line 25 bus taking you to the garden in just approx. 11mins. Alternatively it's a 25-minute walk or a 10-minute bike ride.
---
Travel again, save again.
For just £30 a year, get ⅓ off rail travel plus deals on meals, hotels and loads more!
A railcard pays for itself in just one or two journeys. So start planning your next trip today.
Safety First.
Travel with confidence. Please wear a face covering (unless exempt), travel at quieter times and book in advance where you can. Check and follow the latest Government advice and guidance on our Travel Advice page before planning your next journey.