A city hopping weekend in Bristol and Bath
25th September 2018
From the creations of Banksy and Brunel in Bristol to the restorative spa and ancient abbey of Bath, there's much for the visitor to enjoy in this south-west double-header - Amanda Statham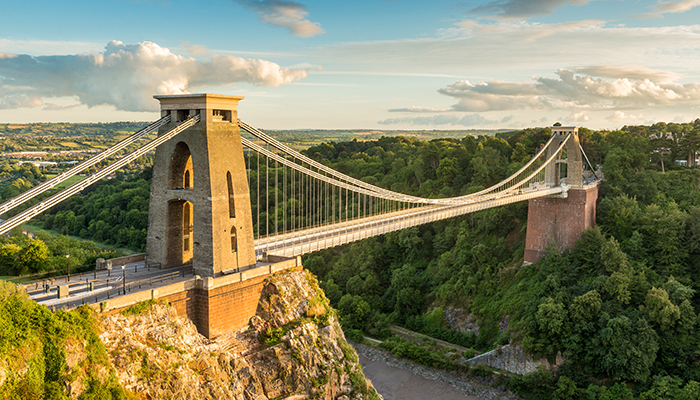 This article was originally produced as part of a commercial partnership with Guardian Labs.
South-west England's gateway cities make for an ideal city-hopping weekend break and have plenty to offer whether you're looking for a family adventure or a couple's getaway. Kick-off in Bristol, the historic harbour city, which is easily accessible by train (Bristol Temple Meads station is a 20-minute walk from the city centre) and has more than its fair share of culture, great restaurants and quirky hotels. From there it's a short hop on the train to Bath (with great savings to be had if you purchase a railcard), home of scenic honey-coloured Georgian buildings, famous Roman baths, artisanal shops and splendid parks.
Day one: Bristol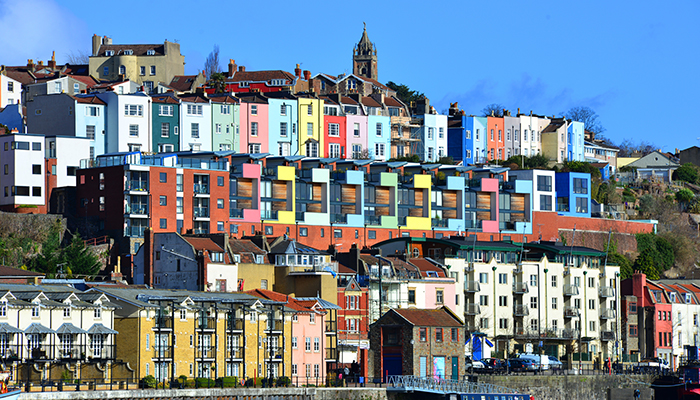 Start by catching a water ferry from stop 1, close to Temple Meads station, which takes passengers around Bristol's scenic floating harbour before dropping them off close to the SS Great Britain. It's housed in a dry dock and offers a fascinating tour of the ship's decks to discover how life would have been aboard Brunel's masterpiece passenger liner in the 1800s.
Just across the water on Spike Island is Hanover Place, home to Banksy's giant graffiti interpretation of Girl With a Pearl Earring. The work of Bristol's world-famous street artist is dotted all over the city, including farther along Spike Island's waterfront at the M Shed, a local history museum where his piece The Grim Reaper, is on display. It's worth going into the museum while you're there for the film and photography exhibits, though kids may prefer to stay outside to see the cranes and trains.
When hunger hits, head north to Primrose Cafe in Clifton Village – an institution (under the same ownership for 25 years) at the entrance to Clifton Arcade in the city's most desirable district. If the sun's shining, make your way to the large, flower-filled outside terrace and enjoy lunching on dishes such as seared tamari and sesame salmon (or opt for brunch – Mexican-style baked eggs with chorizo and chilli – served until 3pm).
Work off lunch with a stroll around the shops in Clifton Arcade, which dates back to 1878 and is a great spot for picking up antiques and vintage clothing. Move on to take photos at the Clifton suspension bridge , the city's iconic landmark spanning the Avon gorge, and from there it's a five-minute stroll to the entrance of Ashton Court Estate, a beautiful 344-hectare (850-acre) park with meadows and deer. It's a great spot to enjoy a sunset stroll, to run around and let off steam, or have a picnic.
Book a table at Wallfish Bistro in Clifton for a gourmet seafood supper after sunset, or head south back to the waterfront for dinner aboard Under the Stars, a relaxed tapas restaurant and bar on a boat. Another option is Jetty restaurant, part of the stylish Bristol Harbour hotel, which is one of the city's top places to stay thanks to features such as an underground spa and spacious bedrooms with decanters of gin. For a cheaper option, spend the night on the Kyle Blue, a harbour-side Dutch river barge converted to a hotel.
Day two: Bath
It's easy to city hop from Bristol to Bath, so after breakfast head to Bristol Temple Meads for the 12-minute (£7.80) train journey to Bath's city centre. On arrival, make a beeline for its most famous landmark, the Roman Baths, where adults and kids can enjoy interactive tours, with costumed actors and CGI reconstructions, to discover how ancestors used the spa in centuries past. Visitors even get to try a glass of (allegedly) health restoring warm spa water at the end. Those wanting to actually take a dip in the thermal waters can pre-book a two-hour (£36) session at Thermae Bath Spa, a stunning open-air rooftop pool of mineral-rich water with an additional wellness suite (though no children under 16 are allowed, so it's not an option for families).
Next, enjoy a stroll along the city's magnificent Royal Crescent, instantly recognisable from films such as The Duchess and Persuasion, then stop by the Jane Austen Centre which is set in a Georgian townhouse in the heart of the city and filled with memorabilia and fascinating facts about the city's famous female novelist. Pop upstairs to the Regency Tea Room for a slice of delicious lemon drizzle cake or tea and scones while you're there.
Bath's shopping isn't limited to Laura Ashley and pricey antiques (though they are there in abundance). Visit Walcot Street in the city's arty bohemian quarter to browse bric-a-brac and cool furniture and while in the area pick up some delicious local cheddars from the Fine Cheese Co (it has more than 100 cheeses to choose from), plus bread and vegetarian goodies from Harvest Natural Foods.
Take your ready-made picnic to the Bath Botanical Gardens, in Royal Victoria park, which are free to enter and a little oasis of calm in the city. There's plenty of lawn space and benches to sit on to eat, surrounded by beautiful trees and shrubs. Post-feast, explore the winding walkways through rock gardens, scented beds and roses, then see the fish pond, Roman temple replica and bridges traversing a trickling stream.
Complete your day by climbing the tower of the city's iconic abbey. The last 45-minute tour is at 4pm (£8 adult; £4 child) and offers the chance to ascend all 212 steps of the two spiral staircases. These reach the ringing and bell chambers and provide the chance to sit behind the abbey's giant clock face, stand above its vaulted ceiling and drink in the panoramic views of the city and surrounding countryside.
Want 1/3 off rail fares? Find out which railcard is right for you. Prices start from £20.