9 of the best places to visit by train from London
11th October 2022
Need a break from the capital? From buzzy beach towns to bucolic countryside escapes, here are the best places to visit by train from London. So ditch the car, do your bit for the planet with a greener mode of travel and save 1/3 on your day trip train fares while you're at it.
Bath: best for spas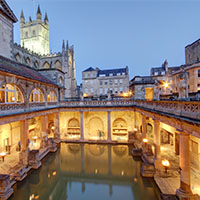 Every inch the classic English spa town, beautiful Bath oozes rest and relaxation – there must be something in the mineral-rich water.
Kick off your day at the Thermae Bath Spa, the last remaining thermal spa in the UK. Next, see how the Romans did it with a trip to the historic baths. Over 2,000 years old, the baths are one of the best-preserved Roman sites in Britain.
Stay blissed out with a serene boat trip along the River Avon and take in the lush countryside of the Avon Valley.
Journey time: 1 hour 30 minutes approximately
Stations: London Paddington to Bath Spa
CO2 emissions: Train 7kg | Car 22kg
Brighton: best for the seaside
With four miles of pebble beach to play with, Brighton is a no-brainer for a day by the seaside.
After you've been for a dip, treat yourself to fish and chips at Palm Court, the famous restaurant on Brighton Pier. Next, drop some change in the arcades before making a trip up the i360 viewing tower. The observation deck shoots up 450 feet in the air for an epic bird's eye view of the city.
Before catching the train home, be sure to stroll through the Lanes, a labyrinth of streets lined with quirky shops, boho cafes and tasty restaurants.
Journey time: 1 hour
Stations: London Victoria/London Blackfriars to Brighton
CO2 emissions: Train 3.3kg | Car 11kg
Cambridge: best for families

Fancy a family day out from London? Take a punt on Cambridge – literally.
The kids will love the city's boats: traditional wooden punts that glide along Cambridge's waterways gondola-style. A tour along the River Cam runs right through the city, ticking off one majestic college building after another.
Back on dry land, make your next stop the Fitzwilliam Museum. An eccentric mix of art and history, the museum runs special programmes for kids of all ages. If you've got time, sneak in a visit to see dinosaurs at the University Museum of Zoology.
Journey time: 1 hour 30 minutes approximately
Stations: London Liverpool Street to Cambridge
CO2 emissions: Train 3kg | Car 11kg
Chelmsford: best for a country escape
Bucolic Chelmsford feels a world away from the hectic hustle of London.
In no time at all, the city's sprawl makes way for the leafy green of the Essex countryside. Keep the natural theme going with a trip to RHS Hyde Hall. From twisting roses to colourful herbaceous plants, the expansive garden is made up of wonderful plants from around the world.
Hylands Estate, meanwhile, offers a classic slice of British country heritage with its manicured gardens and stately home. Visit on the third Sunday of the month for a chance to see inside.
Journey time: 30 minutes
Stations: London Liverpool Street to Chelmsford
CO2 emissions: Train 2kg | Car 7kg
Kent: best for a little bit of everything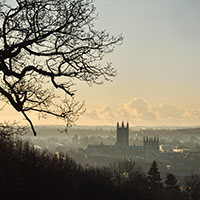 Historic cities, pretty coastal villages and tranquil countryside – Kent has something for everyone.
Canterbury, with its iconic cathedral and cobbled medieval centre, is the obvious place to start. Learn about its namesake Tales by Chaucer with a guided tour, browse independent shops and explore the ancient Roman walls that circle the city.
If you're craving the coast, head to Whitstable. A winning combo of classic and cool, Kent's prettiest seaside spot is famed for its juicy oysters, independent art galleries and a long, pebbly beach.
Journey time: 2 hours
Stations: London Liverpool Street to Canterbury East
CO2 emissions: Train 4kg | Car 13kg
Peterborough: best for outdoor adventures
Hear us out on this one. While Peterborough might seem like your average cathedral city, there's plenty to get the adrenaline pumping in this charming location.
Make a splash at the Peterborough WakePark with a crash course in wakeboarding; rent a kayak and make your way down the scenic River Nene; or bring your bikes and take on the "Green Wheel", a 20-mile loop through Peterborough's best bits.
Fancy something a little more extreme? Peterborough just so happens to be one of the best spots in the UK for skydiving.
Journey time: 45 minutes
Stations: King's Cross St. Pancras to Peterborough
CO2 emissions: Train 5kg | Car 17kg
Oxford: best for history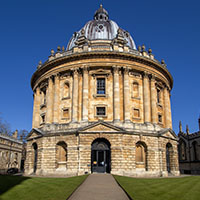 With the UK's oldest public museums, a spectacular collection of archaeological wonders and one of the most important universities in the world, Oxford is a history buff's dream destination.
Kick off your trip back in time with a visit to the Ashmolean Museum, a varied mix of historical collections from around the world. Follow up with a visit to the Pitt Rivers Museum, which offers a deep dive into archaeology.
Finally, take a walking tour of the city's revered university. All calm quads and splendid halls, there are over 30 colleges spread out across Oxford to explore.
Journey time: 55 minutes
Stations: London Paddington/London Marylebone to Oxford
CO2 emissions: Train 3.5kg | Car 12kg
Reading: best for escaping the crowds
Often overlooked in favour of bigger cities, Reading has an unpretentious charm and easy-to-like atmosphere.
Reading Museum features a life-size replica of the spectacular Bayeux Tapestry, while the Museum of English Rural Life provides a fun look at the connection between English people and the English countryside.
Finish up with a stroll along the River Kennet before catching your train home.
Journey time: 25 minutes
Stations: London Paddington to Reading
CO2 emissions: Train 2.5kg | Car 8kg

The New Forest: best for wildlife
Strap on your hiking boots and head to the New Forest for a walk on the wild side.
The national park is traced with over 40 rambling routes, weaving through scenic forest and ancient pastureland. Keep an eye out for the park's native ponies. Residents for over 2,000 years, the ponies roam free in the park – so you're bound to stumble across them sooner or later.
The New Forest is also home to deer, donkeys, cattle and an abundance of bird life.

Journey time: 1 hour 30 minutes
Stations: London Waterloo to Brockenhurst
CO2 emissions: Train 6kg | Car 19kg
Planning to escape London soon? Save 1/3 on your train fare with a Railcard.