7 top places to visit by train from Nottingham
16th November 2022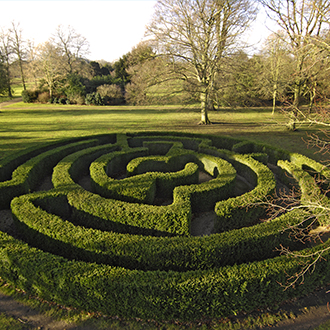 Adventure, history, the great outdoors and so much more are waiting to be discovered just a short journey from Nottingham. Here are 7 amazing places you can easily get to by train from the city – and for cheaper, too, when you travel with a Railcard.
1. Grantham: for a trip back in time
Only a short distance from Nottingham by train, Grantham is perfect for anyone with an interest in history. National Trust property? Check – there's Belton House and its Italian garden. Connection with historical figures? Check – Sir Isaac Newton was born here. A castle and a museum? Check – Belvoir Castle and Grantham Museum both fit the bill.
To really get into the spirit of all things historic, book a horse and carriage ride around the picture postcard Vale of Belvoir. A stroll around the quirky 200-year-old plus Clipsham Yew Tree Avenue is also recommended.
Journey time: 30 to 40 minutes on average
Station: Grantham
CO2 emissions: Train 1 KG CO2 e | Car 5 KG CO2 e
2. Leicester: for a pleasant surprise
Perhaps one of the most overlooked cities in the UK, Leicester is crammed with unexpected gems, and well worth visiting if you're in Nottingham for a long weekend.
For families, the fascinating National Space Centre is hard to beat. Love shopping? The Lanes is packed with independent outlets stocking items you won't find anywhere else. Art lovers, meanwhile, should head to the newish Leicester Contemporary and the longstanding Leicester Museum & Art Gallery to experience an eclectic range of works.
Journey time: 20 to 50 minutes on average
Station: Leicester
CO2 emissions: Train 1 KG CO2 e | Car 5 KG CO2 e
3. Sheffield: for the great outdoors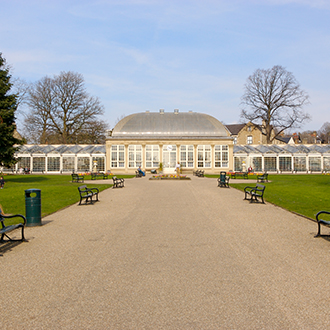 Sure, Sheffield has all the classic qualities of a city destination, from top attractions like the Millennium Gallery and trendy venues like the Shuffle Shack, but to experience it at its best you really want to be out in the open air. There's a reason it's nicknamed the Outdoor City after all.
Sheffield Round Walk, Lady Cannings, Stanage and Sheffield Botanical Gardens are a few of the walking, climbing and cycling activities to sign up to, and there are parks and gardens aplenty to explore in the city.
This is all made possible by the fact that a big chunk of Sheffield is actually in the Peak District National Park. And now you know why it's the UK's greenest city, too.
Journey time: 55 minutes on average
Station: Sheffield
CO2 emissions: Trai 2 KG CO2 e | Car KG CO2 e
4. Lincoln: for small city charm
One of the reasons that Lincoln is such an appealing destination to visit is simply because it's a small city. Not only is it extremely easy to explore a lot of it on foot, but Lincoln also has the look and feel of a town, as the timbered shops of High Bridge and the cobbled streets of Steep Hill showcase brilliantly.
It's always worth popping into Lincoln Castle to see one of the only 4 original copies of the Magna Carta, as well as the Museum of Lincolnshire Life to learn about Lincoln's rich history. For a coffee break, check out the Basecamp, while Ticklebelly Lane Bakery will have no trouble satisfying anyone with a sweet tooth.
Journey time: 1 hour on average
Station: Lincoln
CO2 emissions: Train 2 KG CO2 e | Car 7.6 KG CO2 e
5. Newark-on-Trent: for a classic market town experience
Open 5 days out of 7 – closed on Tuesdays and Sundays – and going strong since the 12th century, Newark's Market Place is where you'll discover stalls selling everything you've ever wanted and never knew you needed. No trip to this delightful market town is complete without a visit to this key institution.
Likewise, for a quintessential Newark experience, you'll want to make your way to the River Trent for a riverside stroll or cruise. Carve out some time in your day to learn about Newark's prominent role in the English Civil War, too, at the National Civil War Centre and the Governor's House.
Journey time: 1 hour on average
Station: Newark Northgate
CO2 emissions: Train 1 KG CO2 e | Car 4 KG CO2 e
6. Melton Mowbray: for pies and cheese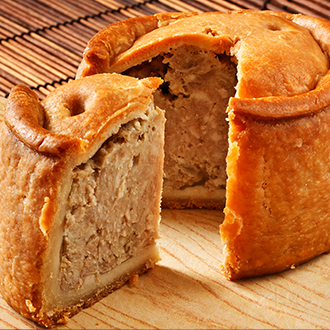 If you're a foodie, you'll definitely want to make the train ride down to Melton Mowbray in Leicestershire.
Affectionately known as the "Rural Capital of Food", the town is most famous for its Stilton cheese and pork pies. You can tuck into a range of these at the historic Dickinson & Morris' Ye Olde Pork Pie Shoppe, The Melton Cheeseboard and the award-winning Nice Pie.
Wash all of it down with a beer at Round Corner Brewing and then get ready for more culinary delights. Melton Mowbray has them around every corner.
Journey time: 1 hour 16 minutes on average
Station: Melton Mowbray
CO2 emissions: Train 1 | Car 4 KG CO2 e
7. Matlock: for a picturesque slice of the Peak District
For a proper day out, Matlock beckons. Nestled in the southeastern fringes of the Peak District – to the northwest of Nottingham – this laidback town has something for everyone.
You can book a cable car ride up to the Heights of Abraham, which offers a spectacular view of the Hilltop Estate. You can take your kids to Matlock Farm Park, where they can feed meerkats and ride on horses and ponies. And you can spend time in and around Crown Square, eating, drinking and shopping to your heart's content.
Journey time: 1 hour 25 minutes on average
Station: Matlock
CO2 emissions: Train 1 KG CO2 e | Car 4 KG CO2 e
Or if you'd like to explore the city of Nottingham itself, check out what our Chief Environment Officer Demario got up to below.
There's a Railcard for everyone, from youngsters and seniors to families and friends and more. Take advantage of big discounts and great savings today.