5 of the best day trips from Manchester by train
2nd December 2022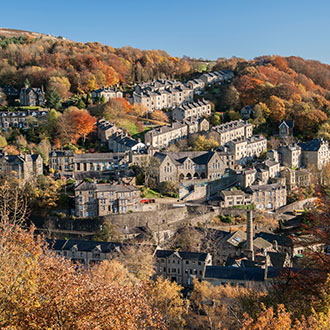 A deeply historic, football-mad, cultural powerhouse that is home to a thriving food scene, Manchester is a destination that ticks all the proverbial boxes for a day out, a weekend away or a week-long break.
But if you can drag yourself away from everything it has to offer, you'll discover that England's second city is also a brilliant gateway to some of the north's finest spots.
We've rounded up 5 of the best day trips from Manchester, which are all within easy reach by train (the greenest way to travel, we might add). And remember to use your Railcard. It will save you 1/3 off most fares if you do.
1. Hebden Bridge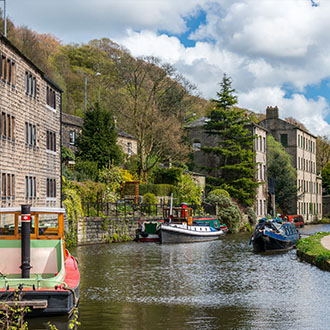 Set in the Upper Calder Valley, Hebden Bridge is a pretty market town with a rich artistic past that is far removed from the city vibes of Manchester.
Instead of well-known high street stores, you'll find independent shops. In place of commercial coffee chains, you'll find charming cafes. And in contrast to noisy bars, you'll find cosy pubs. You get the picture.
Hebden Bridge highlights include the art deco-inspired Hebden Bridge Picture House cinema, the historic 19th-century Gibson Mill – home to 2 permanent exhibitions – and Rochdale Canal, a lovely stretch of waterway that is perfect for an afternoon amble.
Journey time: 30 minutes on average
Stations: Manchester Victoria > Hebden Bridge
CO2 emissions: Train 1.41 KG CO2 e | Car 4.74 KG CO2 e
2. The Peak District
If you're looking for adventure, physical activities and time spent well in the great outdoors, you're just a 45-minute train ride away from the scenic and rugged wonders of the Peak District.
Whether you're in the mood for an easy, family-friendly stroll – such as the Stanton Moor Circular/Nine Ladies Circle – or a more challenging walk like the Kinder Scout, this beloved National Park has options galore.
If attractions are more your cup of tea, Peveril Castle, Chatsworth House and Poole's Cavern are all worth checking out.
Journey time: 44 minutes on average
Station: Manchester Piccadilly > Edale
CO2 emissions: Train 1.34 KG CO2 e | Car 4.47 KG CO2 e
3. Delamere Forest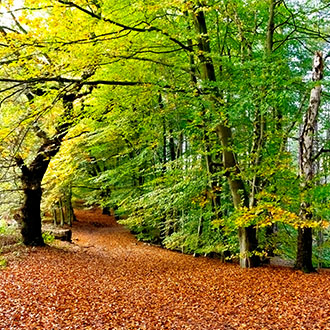 Spread across 2,400 acres of lush woodland in Cheshire, Delamere Forest is a leafy, picturesque wonderland that doesn't disappoint.
The breadth of activities and experiences here is immense. Fancy a trek or a hike? There are endless trails for all abilities and interests, from the cycle-friendly Whitemoor trail to the more challenging Old Pail trail.
For those of you who are keen to have a full body workout, then a Nordic Walk has you covered. With the family? Then Go Ape is an obvious but winning destination. You can even explore Delamere Forest on a segway. The hard part is choosing what to do!
Journey time: 1 hour 12 minutes on average
Stations: Manchester Piccadilly > Delamere
CO2 emissions: Train 1.78 KG CO2 e | Car 5.96 KG CO2 e
4. Chester
A city rich in history, Chester is home to one of the oldest and most complete and walkable circular Roman Walls in the country, as well as a Roman amphitheatre and museums like the National Waterways Museum and Grosvenor Museum. The past, needless to say, is a big draw.
All that said, there's more to Chester's historic character than initially meets the eye. Take the Rows, a 2-storied chain of Tudor-style buildings that take up 4 of the main streets in the city. The exterior might be old school, but behind the doors you'll find an extensive range of independent shops, restaurants and cafes to keep you busy and satisfied.
Journey time: 1 hour 15 minutes on average
Stations: Manchester Piccadilly/Manchester Victoria > Chester
CO2 emissions: Train 2.37 KG CO2 e | Car 7.93 KG CO2 e
5. Lake District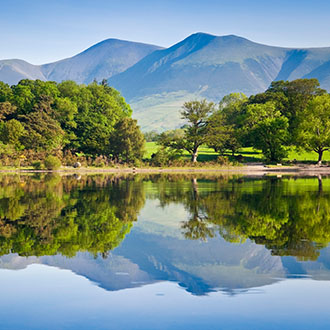 The third of our northern natural wonders is England's largest National Park, the Lake District.
Home to England's highest Mountain, Scafell Pike, and England's largest lake, Windermere, this stunning Unesco World Heritage Site clearly likes to go big.
As with the Peak District and Delamere Forest, the Lake District's vastness offers loads of things to see and do. You could, for example, make a beeline for the town of Kendal, hire a boat of your choice and explore Coniston Water, or strap on your walking boots and take in the beauty of the Lake District's landscapes on foot. Do check out Miles without Stiles, too. It's a collection of accessible walks.
Journey time: 1 hour 15 minutes on average
Stations: Manchester Piccadilly > Oxenholme
CO2 emissions: Train 4.34 KG CO2 e | Car 14.54 KG CO2 e
When you travel with a Railcard you could save 1/3 on your fares for just £30 a year. It's a small cost that can be made back in savings with just a couple of journeys.