5 of the best day trips from Glasgow by train
27th February 2023

One of the best things about Glasgow is its location. Found on the western side of Scotland's central belt, the city provides you with the opportunity to effortlessly discover some of the country's popular and under-the-radar destinations.
We've rounded up 5 of the best day trips from Glasgow, which are all within easy reach by train. And remember, when you book with your Railcard, you can travel for less, too.
1. Loch Lomond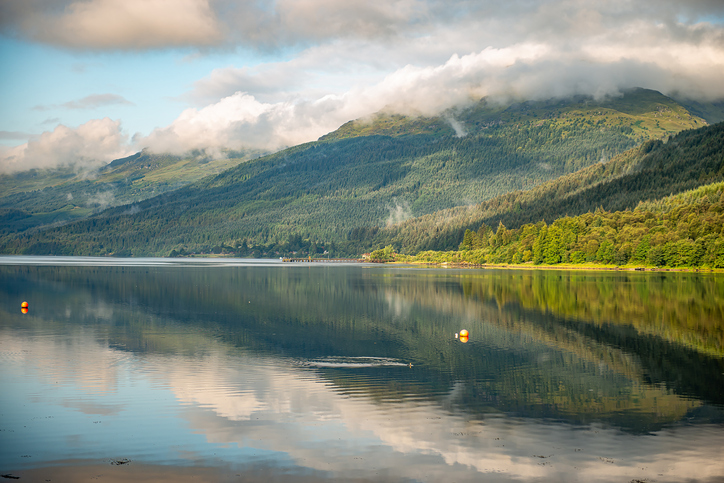 There are few destinations in the UK, let alone Scotland, that are as stunning as Loch Lomond and The Trossachs National Park. Think lush forests, green hills and wonderful glens – picture-perfect postcard showstoppers – and you can begin to get an understanding of its natural beauty.
The vibe here is definitely outdoorsy, with the stunning landscape lending itself to all sorts of walks – like the short and easy Achray Water Circular – and water-based activities that range from paddle boarding and canoeing to sailing and boat tours.
For families, the Sea Life Centre or the Bird of Prey Centre are guaranteed to keep your kids happily entertained, with lots to see and do.
Journey time: 50 minutes on average
Stations: Glasgow Queen Street > Balloch
CO2 emissions: Train 1.15 KG CO2 e | Car 3.87 KG CO2 e
2. Stirling
If you're in the mood to explore Scottish history, Stirling makes for a rewarding experience.
There's the National Wallace Monument, which celebrates the life of the Scottish freedom fighter William Wallace. There's the Old Town Jail, where you'll learn about the many notorious figures that spent time here (like Happy Hangman Jock Rankin). And there's Stirling Castle, a storied fortress that remains in incredibly good nick.
Other attractions and experiences that are well worth your time include the longstanding Stirling Smith Art Gallery & Museum, where you'll be greeted by over 40,000 works of art, objects and photographs, and Blair Drummond Safari Park, where you can hang out with wildlife – and dinosaurs.
Journey time: 30 to 35 minutes on average
Station: Glasgow Queen Street > Stirling
CO2 emissions: Train 1.54 KG CO2 e | Car 5.17 KG CO2 e
3. Edinburgh
A charming old town, the Scottish Parliament, a towering castle, the Scottish National Gallery of Modern Art, The Scotch Whisky Experience… we could go on.
Edinburgh is a capital as fascinating and captivating as the best of them, with an abundance of big name draws waiting to be explored.
As you'll be spoilt for choice for things to see and do, pick a couple from the list above, throw in a brunch or a dinner – the last train back to Glasgow is 11.45pm – and you have yourself a worthwhile jaunt in Edinburgh.
Journey time: 50 minutes to 1 hour 30 minutes on average
Stations: Glasgow Queen Street > Edinburgh Waverley
CO2 emissions: Train 2.98 KG CO2 e | Car 9.98 KG CO2 e
4. Ayr
If you're looking for a day trip that feels a world away from the bustle of Glasgow – it's Scotland's biggest city, after all – then the coastal town of Ayr is a suitable candidate.
Spend time by the seaside, whether it's on Ayr beach or at Pirate Pete's, where an adventure play area, laser quest and mini golf await.
Further inland, in Alloway, Robert Burns Birthplace Museum is a must – there are some great artefacts on display that document the celebrated Scottish poet's work and life. Elsewhere, Rozelle House Museum and Galleries and Dalmilling Golf Club offer you further options or alternatives, depending on how long you're looking to be in town for.
Journey time: 1 hour on average
Stations: Glasgow Queen Street > Ayr
CO2 emissions: Train 2.26 KG CO2 e | Car 7.56 KG CO2 e
5. Falkirk
Whatever you and your travel party are into, you'll find plenty of it in Falkirk, one of Scotland's most underrated destinations.
For instance, there are the obvious crowd-pleasing attractions, from the Falkirk Wheel (a rotating boat lift and not a big wheel) to Helix Park's The Kelpies, 2 humongous horse-headed sculptures that have become iconic landmarks.
In terms of specific interests, here's a small sample to whet your appetite. There's Callendar Park for outdoor enthusiasts, Howgate for shoppers, Tenpin for families – home to bowling alleys, pool and ping pong tables, arcade machines and more – and Christie's Scottish Tapas for the foodies.
And that's a mere glimpse into what you can expect in Falkirk.
Journey time: 20 to 45 minutes on average
Stations: Glasgow Queen Street > Falkirk High/Falkirk Grahamston
CO2 emissions: Train 1.42 KG CO2 e | Car 4.76 KG CO2 e
Travelling with a Railcard could save 1/3 on your fares for just £30 a year.