5 Most searched places to see in England.
17th November 2021

1. Peak District
With an area of around 555 square miles, the Peak District is one of the most visited national parks in the UK. There are plenty of things to do and see in the Peak District, including walking, climbing, caving, and camping.
We recommend the Monsal Trail
The Monsal Trail offers a traffic-free path for walkers, cyclists, horse riders, and wheelchair users through some of the Peak District's most picturesque limestone dales.
Over 8.5 miles, the trail follows the former Midland Railway route between Blackwell Mill in Chee Dale and Coombs Road in Bakewell, which means it's primarily flat, and the surface is good.
Getting there.
There is a range of train connections to the Peak District from throughout the country, with trains usually heading to either Derby or Manchester before the Park itself. The Hope Valley line connects Manchester with Sheffield and stops in several Peak District towns. These include Derwent, Hope, and Edale Valleys. There is also a train from Manchester to Buxton as well as a train from Manchester to Glossop. Both of these trains stop at several minor stations within the park. Visitors can travel from Matlock and Buxton to the centre of the park by using one of the many bus connections available.
2. Northumberland
Considered the land of peace and solitude, Northumberland provides a landscape of endless beauty. From Hadrian's Wall to the stunning Cheviot Hills, the region has much to awe you. It is a paradise for ramblers and nature lovers alike, as well as photographers and artists.
We recommend Hadrian's Wall
The Roman Empire's largest frontier for 300 years, Hadrian's Wall was built in AD122. During your visit to the fantastic ruins, forts, and bathhouses along the wall, be prepared for a magical night of stargazing at the Dark Skies Discovery Site at Cawfields.
Located in the central section of Hadrian's Wall near Haltwhistle, Cawfields Quarry picnic spot has some of the darkest skies in England.
Getting there.
While Newcastle is not in the National Park, it is a major gateway city and is well connected by rail. From Newcastle, the Tyne Valley Line takes you into the southern part of Northumberland National Park, with stations close to Hadrian's Wall World Heritage Site. Key stations for visitors are located at Wylam, Prudhoe, Stocksfield, Riding Mill, Corbridge, Hexham, Haydon Bridge, Bardon Mill and Haltwhistle.
3. New Forest
New Forest in southern England is one of the largest remaining areas with open pastures, unspoiled woodlands, heathland, and river valleys. In its ancient heaths and forests, deer, ponies, and cattle graze freely. Besides offering tranquillity, the nearby rivers and shady groves provide an excellent place for walking, cycling and horse riding.
We recommend a family day at Peppa Pig World
Peppa Pig World, one of the top UK family theme parks, is nestled at the edge of the New Forest. Set amid beautiful parkland, with over 70 rides and attractions, it makes for a fantastic day out with the kids.
Aside from roller coasters and thrill rides, you can enjoy family rides, indoor and outdoor play areas, water splash parks, and an incredible collection of birds and animals.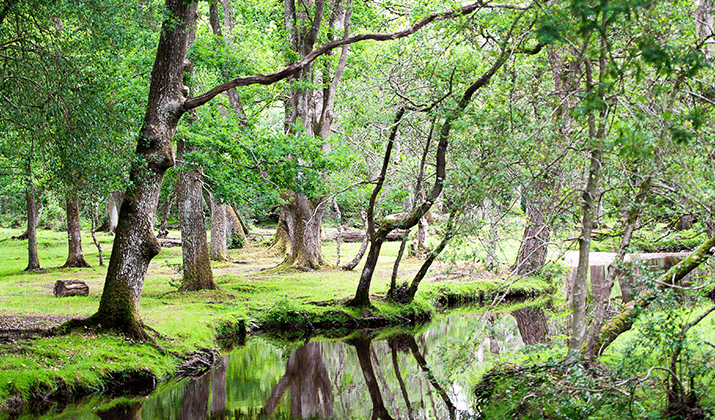 Getting there.
The nearest mainline train stations are:
Southampton Airport Parkway - 10 miles away with a 15-minute taxi drive to the Park.
Southampton Central - 8 miles away with a 10-15 minute taxi drive to the Park. Southampton Central station is situated across the road from the city bus terminals, thus connecting the Park.
4. Derbyshire
Derbyshire is a county in the East Midlands, dominated by the Peak District National Park, which attracts many people seeking hiking challenges and cave exploration. Derbyshire also offers many other exciting attractions, including taking a dip in thermal spa waters in Buxton, taking a tram tour of Crich, and seeing some of its many stately homes and country estates.
We recommend Chatsworth House
In Bakewell lies Chatsworth House, a magnificent stately home owned by the Duke and Duchess of Devonshire. The Grade I listed property from the 18th century is known for its four thousand artworks, ranging from ancient Roman and Egyptian sculpture to modern masterpieces.
From the 6th-24th November, you can enjoy the splendour of the Christmas Market, buzzing with over 100 stalls for gift ideas and stocking fillers. While there, you can explore the 1,000-acre grounds ranging from a carefully cultivated garden, woodland, meadows, petting zoo, and even a maze to get lost in.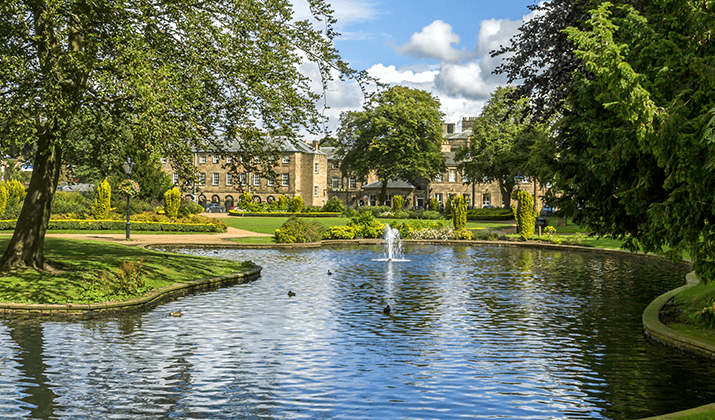 Getting there.
The nearest major train station is Chesterfield. Buses from Chesterfield will take you near Chatsworth House. The closest bus stop is Nether End, Baslow, 2km from Chatsworth (approximately a 25-minute walk).
5. Newcastle
Ride the train to the pride of the northeast, where you'll be welcomed with open arms by the Angel of the North sculpture. No matter how long you stay, there are plenty of things you can't miss. Along with its sister city across the water, Gateshead consistently ranks as one of the best places to eat, drink, and play in the UK.
Beamish - The Living Museum of the North
A living, working museum, Beamish exhibits everyday life in the North East of England from the 1820s to the 1950s and connects people from all walks of life to its collections.
A 350-acre site with a Victorian Town, a Pit Village, a Colliery, a 1940s Farm, an Edwardian Railway Station, 1820s Georgian Gardens, a tramway and plenty of shopping and dining options.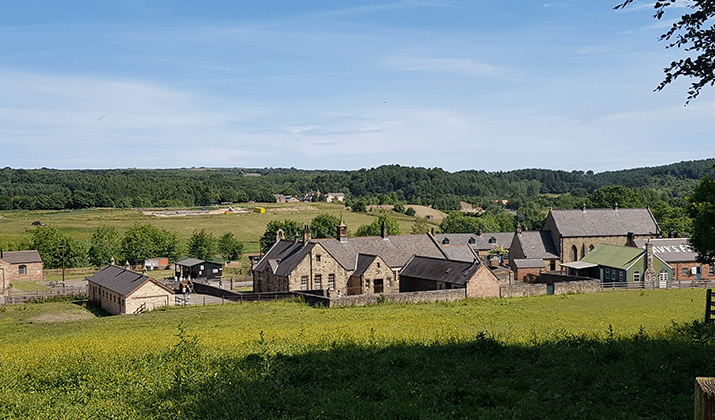 Getting there.
The nearest station is Chester-le-Street. From there, you can take a 25-minute bus ride and then a short 13-minute walk to the museum.