5 most beautiful places to visit in England when you're ready to travel
28th July 2021
Stratford-upon-Avon
A picturesque setting on the banks of River Avon in Warwickshire, this charming market town is among the most stunning in the UK. It is impossible to visit Stratford without learning more about the English playwright, poet and actor that has made it famous; Shakespeare's Birthplace invites you to explore the house where William Shakespere grew up.
In addition to the usual array of exciting, world-class plays offered by the Royal Shakespeare Theatre, Stratford boasts so much more. Festivals are held throughout the year, some hosted by the Civic Hall. The literary festival (next in November) is a great way to discover new authors, and the food festival is a great way to taste local produce.
Enjoy the unique street performers, watch a movie at the town cinema, take one of the many organised tours, or simply stroll the town at your leisure.
Many activities take place along the River Avon throughout the year. Boating and strolling are popular activities for all its visitors.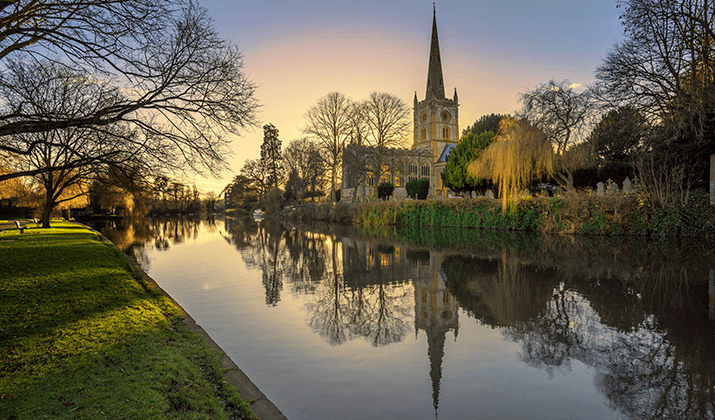 Getting there.
Stratford-upon-Avon is the nearest rail station to get to the historic town and birthplace of William Shakespeare.
York
The historic city of York is situated between London and Edinburgh with the magnificent Yorkshire Dales, North York Moors, and the Wolds right on its doorstep.
Known for exceptional cultural and historical wealth, this beautifully preserved medieval city is a must-see for history lovers. York offers an array of exciting adventures, with its Roman roots and Viking past.
It's streetscape is like walking through a time machine, as the overhanging timber-framed houses and traditional shop fronts transports you back to the middle ages.
The city has more attractions per square mile than any other in the UK, so there's no shortage of fun activities for you to enjoy whatever your interests may be. During your visit to York, don't miss York Minster, one of the largest Gothic cathedrals in Europe as well as one of the most beautiful in the world.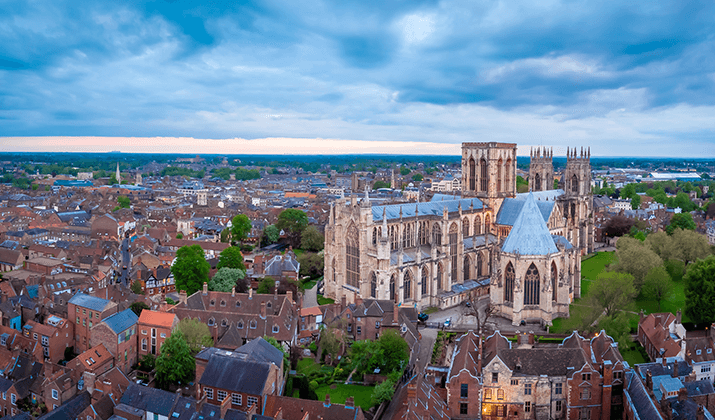 Getting there.
York is the nearest rail station to get to this beautifully preserved medieval city.
Bath
Since Roman times, Bath has been a destination for relaxing and improving your wellbeing. Despite modern development, the ancient Roman Baths still hold a lot of attraction, as do the Thermae Bath Spa, which is home to the only natural thermal hot springs in Britain you can bathe in.
Bath was founded in 1AD and is now a UNESCO World Heritage Site. Bath's compact central area offers a wide variety of places to eat and drink, as well as some of the finest independent shops in Britain, all being a short walk from one to the next, making it an ideal city break destination. The impressive museum and gallery collections in the city also should not be overlooked.
Beautiful honey-coloured Georgian buildings abound in Bath - highlights include the iconic Royal Crescent and the majestic Circus. The surrounding Somerset countryside is also worth exploring, as are attractions like Stonehenge and Avebury and Longleat Safari Park.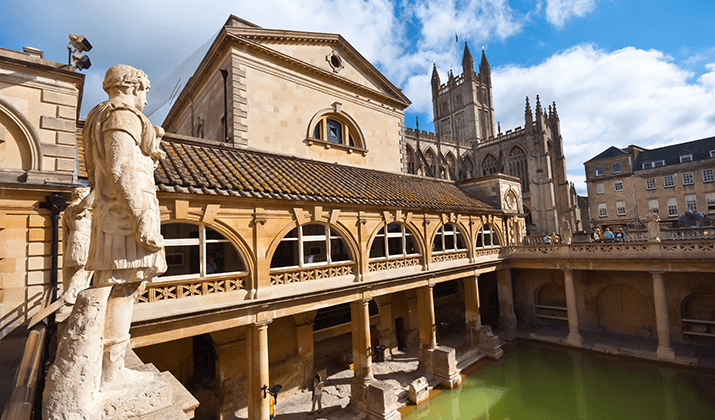 Getting there.
Bath Spa is the nearest rail station to visit the ancient well-being destination and its stunning Georgian architecture.
Norfolk
On the mid-east coast of England, Norfolk boasts over 90 miles of unspoiled coastline, beautiful countryside, National Parks, forests, heathlands, bird watching, and seaside resorts.
Enjoy the beauty of Norfolk's stately homes amidst the landscape of lakes and rivers. Boat on the Norfolk Broads, a tangle of rivers and lakes, or explore fenlands teeming with wildlife.
The expansive English countryside is dotted with stately homes fit for queens. Both the Queen's royal retreat and homes featured in movies, like Shakespeare in Love or The Duchess, are on the list.
Enjoy traditional British seaside classics at Great Yarmouth's Golden Mile, pleasure piers, arcades, and putting greens galore. Discover 900 years of history at historic King's Lynn, which features medieval churches, courtyards, and hidden alleys.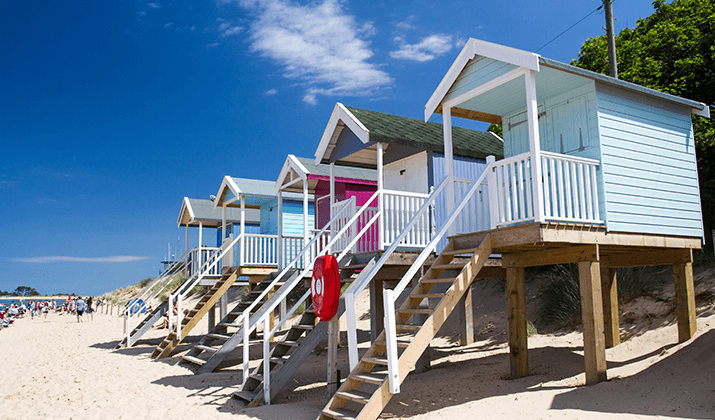 Getting there.
Reedham (Norfolk) is the nearest rail station to begin your adventure in exploring the Norfolk Broads.
Berwick-upon-Tweed
Located on the east coast at the mouth of the River Tweed, Berwick-upon-Tweed is the northernmost town in England, full of unexpected sights and undiscovered places.
Explore hidden alleyways, climb up a dune, view medieval remains as you meander through Berwick. It has it all, from a romantic hideaway to a cosy family retreat to a dog-friendly dream cottage.
As this border town was passed back and forth between England and Scotland like a hot potato, its Elizabethan town walls and ruinous castle remains bear the scars of a bloody, conflict-filled past.
You won't want to miss exploring the ancient monastery, visiting the seafront castle, and venturing to Lindisfarne Mead on Holy Island, which is cut off by a tidal causeway twice each day.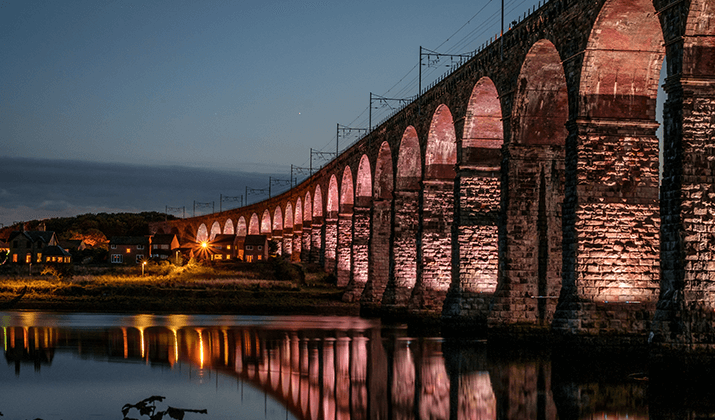 Getting there.
Berwick-upon-Tweed is the nearest rail station to explore this northernmost border town.