That Weekend Feeling
7th September 2020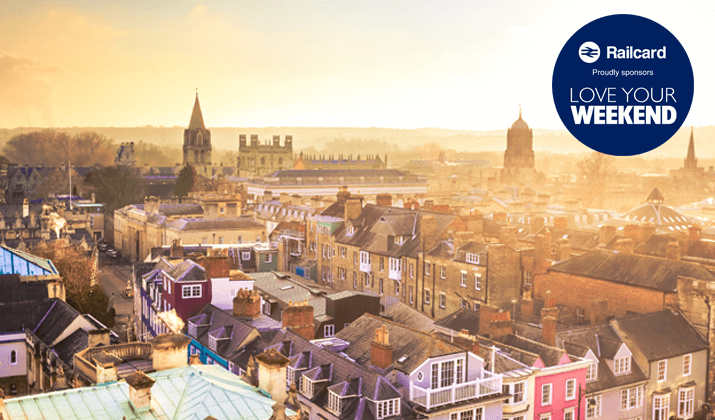 Yesterday we made our TV debut as sponsors of ITV's new Sunday series Love Your Weekend.
As part of the sponsorship we've created a series of short videos that highlight that Railcard feeling you get when you're able to save a third off your train journey, visiting friends and family or exploring new locations.
Each week will we be sharing a new itinerary so you can go and discover (or rediscover) the forgotten/hidden gems of Britain that are featured on each week's show.
In yesterday's episode we met the Radwans, who run UKs first halal farm, with their six children on the edge of the Cotswolds. The Cotswolds runs through five counties Gloucestershire, Oxfordshire, Warwickshire, Wiltshire and Worcestershire. There's lots to explore from palaces, castles, ancient woodlands and beautiful canals.
You can experience all of these things and more on a trip to Oxford. From your nearest train station make your way to Oxford Railway Station, making sure you use your Railcard to save a third off your journey. When you travel by train you can get a PLUSBUS day ticket at the station or online, which will give you 33% off unlimited access to local busses and trams for the duration of your ticket.
Upon arrival in Oxford you can explore everything this prestigious university city has to offer. From visiting one of Oxford's many historic buildings, colleges or museums to enjoying culinary delights you're sure to find something everyone will enjoy.
If you want to check out the Best of British cars, featured in yesterdays show, then take a trip to Beaulieu in Hampshire to see the cars firsthand. Not only can you see over 280 vehicles at the world-famous National Motor Museum, you can also get a guided tour of the Montagu family home. There's also the opportunity to walk in the footsteps of medieval monks who lived in Beaulieu Abbey over 800 years ago and much more. Beaulieu is in the heart of the New Forest National Park, a short bus journey from Brockenhurst station. When you travel by train to Beaulieu you'll get 20% off your admission.
So, what are you waiting for? Book your next Railcard adventure now to explore the locations and local businesses featured on yesterday's show, for less.
The next episode of ITV's Love Your Weekend will air on Sunday 13 September 2020.