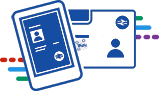 Find your Railcard
Over 20 million people in Great Britain can save with one of our Railcards. Which one will you get?
Need help getting or using your Railcard?
Need help? Find out everything you need to know about purchasing, using and renewing your Railcard.
How do I renew my Railcard online?

What is the digital Railcard download code?

How do I get cheap train tickets?

How to do I log into my account?

Can I get a refund due to COVID?